Short version:
Bought 2020 Line Bacons, they failed on the second day skiing them, no warranty response for months.
Long version:
Dec 3 '19
– Book my flight to Russia and order skis from freezeproshop.com.
Dec 9 '19
– Skis arrive.
Feb 1 '20
– Arrive in Russia.
Feb 2 '20
– First day on skis. Heaps of snow and they're rad.
Feb 3 '20
– Second day on skis. It snowed a tonne overnight, deepest I've ever skied, and the skis are even more rad.
Feb 4 '20
– Third day on skis. Notice on the first gondola ride up the mountain that about 35cm of the edge has pulled out of one of the skis. Go back down the mountain, hire another pair for the remainder of the trip (9 more days).
No base damage, no damage to the edge itself (see pics). Snow was WAY too deep to get rock strikes and these things are brand new, I'm babying them. Looks like the edge bonding has failed while carving on piste towards the end of the day.
Feb 5 '20
– Send a warranty request via lineskis.com.
Feb 9 '20
– Fly home to Aus. Baggage complication means I need to send my skis home with someone I was on the trip with. They live in a city 9hrs drive from where I live.
Feb 10 '20
– Get a response from
warranty@k2sports.de
telling me 'Complaints are always handled by the dealers' (?) and to contact FreezeProShop.
Pandemic hits and no one can travel outside their city. Postage to get my skis back is not affordable, so I leave it until travel becomes easier or I can find an alternative.
Jun 8 '20
– Finally get my skis back. Jump on the FPS website and find that they've gone in to administration. Info page says I need to send any warranty requests to the manufacturer. Email Line and K2 warranty.
This message never got a reply
.
Jun 9 '20
– DM Line Skis Oz on Instagram asking if they can help in any way. They reply saying they have no responsibility (fair enough) and offer to sell me some new skis (…).
Jun 10 '20
– DM Line Skis on Instagram asking for help.
This message never got a reply
.
Jun 16 '20
– DM Line Skis on Newschoolers and they tell me to email
info@lineskis.com
or fill out a warranty request.
Jun 21 '20
– Email
info@lineskis.com
with all of the details, history, etc.
Jul 1 '20
– Line responds, tells me to contact my regional HQ (Aus). Reply telling them I've already tried that, and simply ask if I'm owed some kind of warranty or not.
This message never got a reply
.
Jul 13 '20
– Email FreezeProShop customer service and explain everything, give history, etc. They reply and say that the only thing they can do it refer me to the administrators and request a refund.
Jul 14 20
– Email the administrators and request a refund.
Jul 28 '20
– Administrators respond:
"Unfortunately, since the Company went into Administration, we are unable to make any customer refunds. Therefore, I would be grateful if you could complete and return a Proof of Debt Form (blank copy attached) so that, should a dividend proceed, your claim will be considered with the general body of non-preferential unsecured creditors.
Just to make you aware, the quantum and timing of any potential dividend to non-preferential unsecured creditors is uncertain at present, however, I can confirm that it is likely to be less than 5p in the £
."
Yay, AUD$0.09 for skis that cost AUD$806!
I forward this to
info@lineskis.com
, outline all of the details and history again, and ask, yes or no, can I get some kind of help or warranty. Even offer to pay for shipping if I can get them replaced.
No response as yet
.
This whole time no one has been able to tell me whether I am due warranty. FPS is UK based and I'm in Australia.
If this means I'm not, then fine, but no one will tell me
. This is a pretty obvious manufacturing error and it would really suck if I can't ever use these skis. Shops have said they're not keen on repairing them because the failure is too severe to put their name against and can't guarantee a fix will work (and they tell me Line should just replace them).
Has anyone else ever been in this situation? I understand that the last few months have been a nightmare, but not responding to messages and trying to push me to other contacts that aren't responsible kind sucks. All of my buddies are skiing this week and I'm at home.
Pics: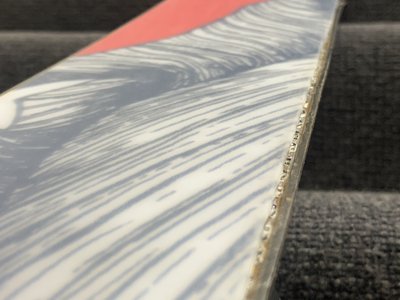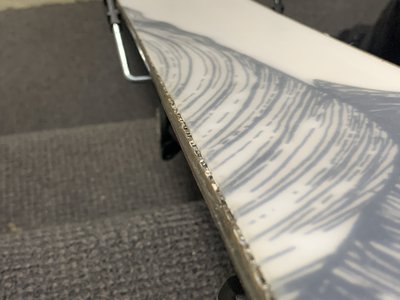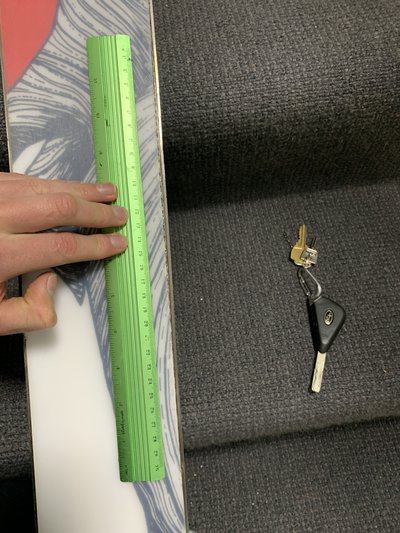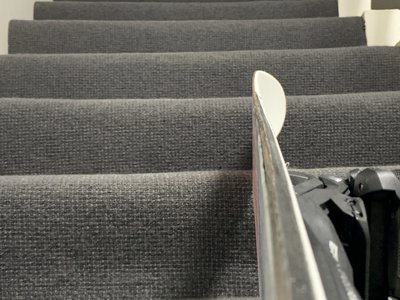 **This thread was edited on Aug 2nd 2020 at 11:18:30pm
**This thread was edited on Aug 2nd 2020 at 11:22:08pm