Hi all,
A technical question about having multiple binding mounting positions...
Just bought the Faction CT 2.0 2020 with bindings mounted at "All Mountain" boot center.
I read that it is better to go near or even on the "Candide" boot center.
In fact I would like to play with a few positions. So I would like to drill 2 extra set of holes to be able to change the bindings to the position "Candide" and to the position halfway "Candide" and "All mountain".
To be able to switch the position easily, I was thinking of putting threaded inserts (see pic below) in the ski's for the different binding positions and use metric screws (instead of the wood screws). I would lock the screws with thread locking paste so they don't loosen. And I would put plastic dummy screws in the unused insert threads on the other position(s) so no snow/ice get's in.
Would this be something that can work or not?
I would apreciate feedback from people that work at ski brands or that have real technical experiance on ski's.
Guesses don't really help.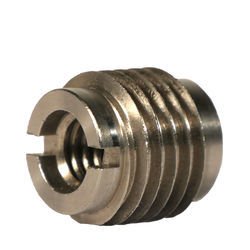 Footnote:
I am an older dude (so not realy a new school type of guy ;o) and I only ski 1 week a year.
So not realy a die hard. But I rented those factions 2 years ago and I really loved them a lot.
Those were the first playfull ski's that allowed me to ski powder too with ease.
But I forgot on what position the bindings were at that time.
Me: Weight 82kg length 1m90. 50% groomed slopes; 30% pow; 20% park (love to play around)
**This thread was edited on Jan 17th 2020 at 8:55:27am