So I ordered the Level 1 x Spy Ace goggles and a sticker pack a few days ago and I just received the package. One of the biggest reasons I ordered the goggles due to the fact that I needed new leather mittens and Level 1 had a promotion going on where you got a paid of Level 1 x Wells Lamonts. A sick deal indeed.
Little did I know I'd also be getting all of this extra sweet shit! They sent me a bunch of Fischer gear... a snapback, a metal 12oz knockoff Yeti coffee cup thing, a neck tube, beer coozies, a bag, and a beanie.
I kept the goggles, mittens, coffee mug, coozies, and most of the stickers but everything else went to my 12 year old brother and it made his day to get a random surprise like that.
Thanks so much Level 1. Not sure if Fischer has anything to do with this but if they did, thanks to them also.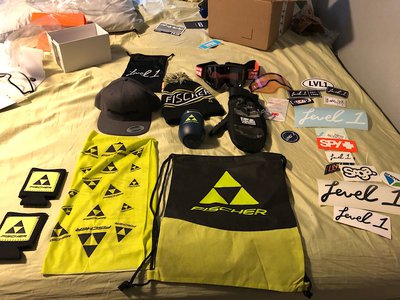 **This thread was edited on Dec 8th 2018 at 2:00:03pm