Hello friends!
So I have this brand new pair of 2019 Warden bindings, still in box, never mounted/used. (brake size 130mm)
I'm sure you're all familiar with these, but here is a product description anyway:
The Salomon Warden MNC 13 Ski Binding is the county's new sheriff, and he's not much interested in whether you're sporting traditional alpine boots or AT boots; he'll ride them all. In addition to being a burly 13-DIN ripper, the Warden is designed to be compatible with pretty much any boot (just check that your boot is either ISO 5355, ISO 9523, or WTR-certified), saving you the cash and hassle of investing in a whole quiver of different boots and bindings. It still shreds, too, with an oversized platform for increased control of wide skis, a U-Power toepiece and Heel Flex Interface for bomber retention and reliable release, and Progressive Transfer Pads for a smooth, powerful feel and excellent lateral power transmission. Salomon hooked the Warden up with enough brake options to fit pretty much any skis and designed it with a low stand height to keep your weight close to the snow for a stable, powerful ride.
Multi-Norm Certified
4-13 DIN rating
Oversized platform
U Power toepiece
Heel Flex Interface
Progressive Transfer Pads
Sliding AFD
MSRP on these is $260, but they can be yours for $180. I'm in SLC so anyone who wants to make this deal face to face would be my preferred option, but I can also ship, provided you add that cost on top of the price.
A quick pic: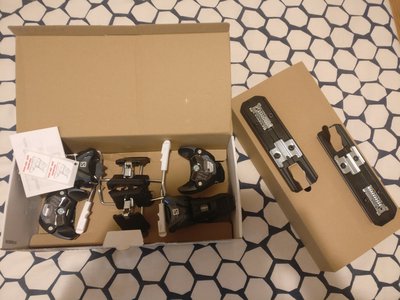 **This thread was edited on Nov 17th 2018 at 7:55:08pm
**This thread was edited on Nov 19th 2018 at 1:33:08pm
**This thread was edited on Nov 21st 2018 at 7:31:28pm