Please vote on a subtitle (attached underneath the poll) that makes YOU want to READ this book. If neither subtitle works, you can suggest a better one!
The tone of this book is informative and snarky/funny about all things skiing, but
not
"how to ski". (We really don't need a 143rd book on ski technique, do we?)
This is edition 2. First edition sold mainly on Amazon-North America and -Europe.
(I shouldn't have to say this but, all rights are reserved by Dan Cody.) Hey, but
your creative genius will be acknowledged with your name in the book.
Here's an excerpt...
Introduction
"You can't sell a book with that title," my internet marketing guru told me. Facebook and the search engines will blacklist you.
"But, it's not porn," I defended. "It's a gift book for skiers."
"Yeah, but as soon as the interbots see "porn" in the title, your book will never show up in search results."
That's how, "Porn for Skiers" turned into "The Skiers Gift of SKIGASM".
But, the content remains the same. "Porn for Skiers", a.k.a. "The Skiers Gift of SKIGASM" is not a book about sex. It's about how to avoid the fumbling around that gets in the way of moments of vacation ecstasy—
skigasms
.
Aren't analogies fun?
Skigasms happen when skiers experience everything that skiing and snowboarding have to offer. Fun with family and friends, majestic alpine vistas, escapes from the humdrum of daily life and, of course, the thrill of careening down mountains.
Here, I'll show you how to choose the most suitable skis, ski boots, clothing and resorts that match your skiing ability and budget. Should you rent skis or buy? That's covered. What's the best kind of ski for you? Covered. And, I'm not promoting any particular brand. If you know the
kind
of ski you need, you can find great deals on ski equipment.
I'll show how to make getting to the mountains easier and safer. I even cover how to pack and carry everything you'll need for a day on the slopes.
This is the second edition of a book published last year on Amazon.com, The first edition, titled, "The Skiers Gift Book That's Sweeping the Globe," sold well.
Based on the feedback I got, skiers of every ilk love this kind of heretofore unpublished, insider information. I guess that's because I'm an advocate of skiers, kind of a
skigasm therapist
.
Most readers say they appreciate my snarky sense of humor, too. Hey, if I'm going to spend months slaving over a hot laptop, I've got to have some fun, too.
This second edition acknowledges our brothers and sisters who are grinding over rails in terrain parks everywhere. These daredevils combine skiing and gymnastics and are pushing the sport in new and exciting directions. They risk life, limb and $6,000 in orthodontic treatments every day in parks across the globe.
This second edition also includes a new chapter for first time skiers. That chapter and others serve as a gift for experienced skiers as well as anyone who wants to start skiing, learn quickly and save money.
With those additions and a few cosmetic changes, this second edition imparts similar information as the first.
At this point, you may be wondering, "What makes you, Dan, a reputable source of insight into how I can achieve more consistent and satisfying skigasms?"
I know I've started off with a satirical tone here, but this might be important to you. We're talking about your vacation days—you know, the days you've earned but your Scrooge-of-a-boss won't always let you use (in America anyway. Bosses in most other countries are more enlightened about holiday time). We're also talking about your hard-earned vacation dollars and enjoyment of life in general.
So let's get down to why you should trust my advice on achieving skigasm.
Over a span of ten years, I worked in most aspects of the ski industry. I was a certified instructor and taught skiing at east and west coast resorts in the U.S. I worked in marketing at ski resorts, managed 500 room resort hotels, sold ski equipment and chaperoned ski bus tours. And, it all started with my first job as a pot washer at Killington, Vermont.
So, I've been in positions from which I could observe skiers who experienced skigasm and others who remained frigid and unsatisfied. I share my observations throughout the book and invite peer reviews from skiers worldwide.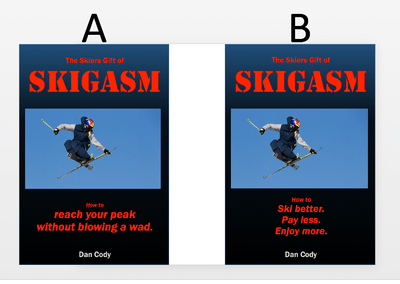 **This thread was edited on Sep 5th 2018 at 2:42:54pm
**This thread was edited on Sep 5th 2018 at 2:43:57pm
**This thread was edited on Sep 5th 2018 at 2:47:08pm
**This thread was edited on Sep 6th 2018 at 9:15:37am
**This thread was edited on Sep 6th 2018 at 9:17:14am