**Please, if your gonna throw in a reply, please dont just shit on my grammar, etc, this is a Skiing forum and this is not a word processor they give us.. and contribute to the discussion, and back up your statements or thoughts.. dont just say something to be negative, or shut me or otheres down without a good reason and give insight or facts into why u feel that way..**
Im bringing this back to set the record straight. I still rock my old jiberish from 08-10, even up to 2013 etc. and im 27 years old! its not to childish or outdated! i wear it work, wear it on dates, wear it around the house, wear it to the mall, and i get mad compliments on that shit! When I wear the newer stuff no one says a damn thing because t looks like everything else! And i get more looks and compliments in my older jib like the boltastic, or jungle cat, or fittest than anything else i own! the shit is unique and different and stands out! that was Jiberish's ideals as a company back then!
The OG Jiberish is the company that i bought into. we the skiers, the broke ski bums who had just enough money to eat and pay bills living in breckenridges high priced tourist trap economy, would spend our last money to get the newest Jiberish and wait for it to drop so it wouldn't sell out. its us, the ski bum, skiing fanatics that brought them to where they are today. They forgot there roots in the style and nostalgia and exclusivity that made them who they are! the new Jib is still skiing sure, but not the focus that it once was. the new Jiberish is not exclusive.. they make so many of the damn product now they cant sell out on there stock. I don't get that feeling now when 5000 people got the same damn shit. and they are now selling the blacklist items in the store! not ok.. Its supposed to b for loyal supporters and its something that should make you feel like you earned it. now any average person can walk in and buy a blacklist item i had to work and wait to achieve! its because they cant sell there other items so make a buck of the few items that are good this year, the blacklist hoodies! you don't have to be a genius to know jib isn't what it once was.
The jib of old sold out in minutes, the new stuff is still in stock, and has been restocked several times (good bye exlcusivity) and they dont focus on the styles of the artists they used to love teaming up with! there vision was to not mold into the rest of the clothing scene, and conform, and they are built on a model of organic clothing, and aesthetic ideals and artistic creativity. The stuff they make now isnt designed by artiists! and they are following the trends that they said they wouldn't (supreme, Bape) and are now making stuff like everyone else! they used to be outside the industry making unique flashy, amazing pieces designed by artists! read this quote from them and you will see that it is not what they have lived up to. they forgot there roots, they forgot there founding principles. I don't care if you grow up! and your style changes! your clothing company was founded on whats in this quote in the photo. u cant just change it! and if you do make sure u stay true to the artists, the organics of it, and the goal to not conform!! THEY DID SELL out!
If it wasn't about the money Then why do they make so much quantity of each hoodie! THEY USED TO MAKE LIKE 20-30 PIECES OF ONE STYLE, NOW THEY RESTOCK EACH ITEM 3 TIMES A YEAR!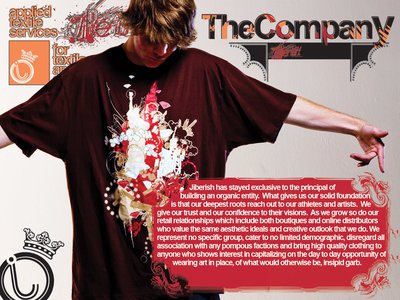 **This thread was edited on Apr 20th 2018 at 1:46:20pm
**This thread was edited on Apr 20th 2018 at 2:00:06pm
**This thread was edited on Apr 20th 2018 at 2:10:35pm
**This thread was edited on Apr 20th 2018 at 2:11:29pm
**This thread was edited on Apr 20th 2018 at 2:11:47pm