So I just got these mounted, STH2 13s on Magnuses or whatever we're going to call them. My soles/DIN bits on the boot and whatever are perfect. They're like one season old boots with no damage to those areas. The boot has
a ton
of up and down movement in the toe. So I'd imagine the completely failed on the height adjustment, with way more than the .5mm gap between the afd than there should be. I put in a photo and video. It was hard to hold the camera still while rocking back and forth, but you can see the movement. Forward pressure and wings seem to be correct but I'll have to make sure. They have them so the little anti friction wheels are just touching the boot.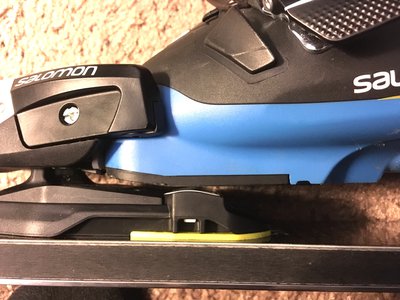 https://www.newschoolers.com/videos/watch/883225/IMG-5404-MOV?utm_source=alert&utm_medium=web&utm_campaign=alerts
For obvious reasons I don't trust this shop fully, so I'm not bringing them back there. I've adjusted it to the point where there's no up and down movement, but also so they're not squished against the afd. I'll have to make or acquire the .5mm tool to check afd clearance. Does anybody have any tips for this, though? I could bring them to another shop but I don't exactly trust them either, and I don't exactly live in a ski town so it's not like there's an abundance of shops. I trust myself more than them.
I found the 14/15 tech manual from salomon with a quick googling, but later versions seem harder to find. It's unclear if they want the wheels in the wings or the actual wings to touch the boot, since they don't draw the wheels in the diagrams.
TLDR: should there be any up and down movement in the toepiece whatsoever? I'm thinking no.
**This thread was edited on Nov 25th 2017 at 12:24:41pm
**This thread was edited on Nov 25th 2017 at 12:35:02pm