I found a 40 Dollar pair of B2 bandits circa 2005 or so in great condition at a local thrift store.
I didn't have a screwdriver needed to adjust bindings so I just bought them. They are 182s so they are for a relatively large person I'd assume, and appeared to be fully adjustable with some strange rail thing. Ive never seen this system and cant find anything about it online.
Turns out if I try to open the heel too far to accommodate a 30 boot they just come off the rail exposing the plate.
But the plate itself appears to be on another rail which unfortunately I can not figure out how to use. Has anyone ever seen this system? Does anyone know if the plate is moveable by loosening the screws or is that rail looking thing nonfunctional?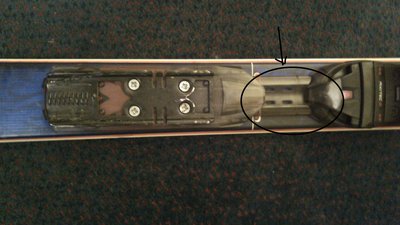 I am really hoping someone knows a way to adjust these, I was really hyped about finding these skis and I dont think a refitting would be worth the 40 dollars I paid for them. Id probably just have to sell to someone else.
Thanks for any help
**This thread was edited on Nov 17th 2017 at 2:02:03am
**This thread was edited on Nov 17th 2017 at 2:03:13am