Stowe's got a lot of really rad terrain. I made ya a little guide here. Not gunna give away too much to a public forum tho ;)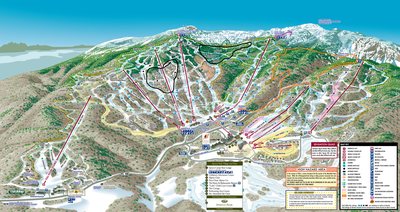 The circled zones are the best glades there. The black zones are the best in bounds so I'd definitely recommend checking those out first if you're an experienced skier to get a taste of what the tougher glades are like. The one on the right requires some traversing but is generally less skied.
Then if you're looking for more, the orange zone has some legit stuff. "The Notch" runs through it and you can ski either side it (there's a lot more skiable terrain on the Mansfield side and that's where most people go). It's a lot easier to get lost on the Spruce side for that reason so I wouldn't recommend going without someone who knows the area. Mansfield side is where "the bench" is, as TNORTS said. You can either traverse in a little bit and come back out on the trails or go in a ways to the bench or past it and come out on the road and hike back to the lodges. Lots of dope skiing in there and you can virtually always find fresh pow if you look hard enough/traverse far enough out. If you're up for it, you can traverse for legit 30 minutes from Chin Clip and I bet you you'll find some deep snow. The best part is that you pretty much can't get lost cuz if you go down you'll end up on the road no matter what. Just make sure you turn the right way and don't end up on the wrong side of the mountain.
Then if that isn't enough, the purple arrow is how you access the above treeline area. There are a lot of big lines and crazy stuff up there but I wouldn't recommend going up there without someone who knows what they're doing. It's a loong way down, especially if conditions end up being sketchy. It can differ because of the high wind and exposed faces up there so you can never be certain.
Idk where you're coming from but this isn't your average east coast mountain. You gotta be really careful when skiing out of bounds and there are a lot of really good skiers there so just because a traverse is really tracked out doesn't mean it's not something you should be extra cautious with. I don't know how good of a skier you are so I don't wanna recommend anything outside your ability even though I most likely just did (no offense) so I'll just say be really careful exploring and know your limits and don't be afraid to ask some locals for advice.
Have fun exploring one of the best mountains on the east!