Erica recently made a nice little news article about alex schlopy signing for ruroc
https://www.newschoolers.com/news/read/Alex-Schlopy-Signs-Ruroc
I think this is worthy of a thread
Now as some of you may know, Ruroc makes these abomination of helmets that are full face and pretty much a beacon of light saying " I am the biggest jerry of all time"
Normally we associate ruroc helmets with skiers from texas who google searched some shit and came across these helmets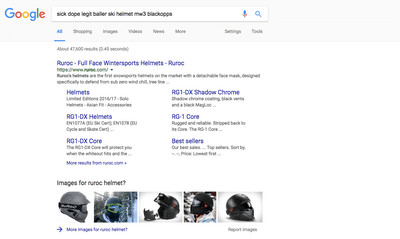 NEVER in my life time would i ever associated pro steeze skier with ruroc.
For most skiers and for Alex this might be signing a skiing social death wish
Its so easy to hate on.
But take a minute- this is what Alex Schlopy said
I'm making to get back in the game and continue to pursue my passion and goals",
As many of us know also Alex Schlopy has had a rough past couple years, this guy is a super talented skier and although being sponsored by this company isn't ideal- dont hate. Hes doing what hes got to do to get back on track.
As a whole, I feel like the ski industry has failed Alex, but maybe they can pull something off thats legitimately dope in their partnership, and not something that screams "I have no idea what the fuck im doing but i think i look dope"
The great words of
Usher
come to my head
- "Shawty, I don't mind If you dance on a pole
That don't make you a hoe
Shawty, I don't mind when you workin' til three
If you're leaving with me
Go make that money, money, money
Your money, money, money
Cause I know how it is, go handle your biz"
alex i dont care if you a hoe
make yo money and get back on them slippery sticks