I'm antsy to do some welding & fabrication That's not under the constraints of my current employer. So.. if anyone would like to purchase a legitimate "resort" quality park feature for their backyard, you should hit me up.
This particular design I threw together would be an 18" high, 12 foot flatbar and would come out around $400-$500. For this design if If I could find at least 2 buyers it would minimize costs and scrap left over and that would be FAN-F'in-TASTIC.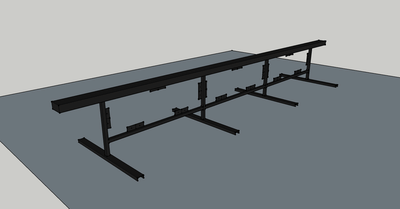 4"x2" STEEL Flat Bar
Stats:
12' long
18" High
~ 114 lbs.
Fully skirted.
Stainless hardware.
Color - Your choice!
Another option would be a plain, simple 2 inch round bar with two legs and feet. That would come out around $325 if at least 3 people bought one.
Delivery would probably be around $40-$50 in Eagle/Summit County. Beer might also be accepted.
I've been making park features for about 8 years now and I'd like to keep building them for a looooong time so... let me make you one.