Its been a while since I have last posted, but I have been meaning to post this for a while. I wanted to share a moment with you that will definitely stay with me for the rest of my life! Feel free to post any of your stories too!!
This is a perfect example of why our industry is so special and cool. Chris Benchetler was the skier who got me into freeskiing; I remember watching the Japan segment from "Reasons" for the first time and thought it was absolutely insane! I have been skiing since I was 4, but never got into it until the age of 14 after watching this video. Chris Benchetler has since then been my favorite skier and I hope that someday I will obtain a pair of bentchetlers. When it came to trying my first backflip I was pretty nervous so I sent him a message, as he was my idol, asking if he had any tips. I never thought he would respond but he ended up responding! I ended up trying it and ate shit but the next time I went out after hours of attempting them I finally stuck it. Here is what he responded with.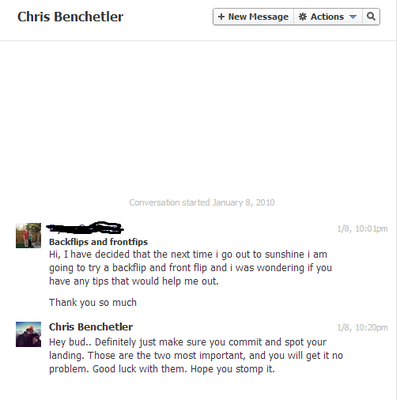 As I am now 20, in college, and only ski roughly 2-3 times a year cause of it I have come to realize how amazing it was of him to do what he did. I know its just a facebook message but the fact that he took time out of his day to answer a fan who wanted some help on facebook I think is pretty dam sweet! So thank you Chris you are one of the many skiers that make our ski industry truly special and amazing! Keep on killing it and being the idol for future younger skiers!