If you are new to this site/don't know much about cults here, read on as this is targeted directly at YOU!
If not read it anyway cause it might actually end up being pretty useful.
Cults are an amazing resource for us NSers, but sadly have been pretty much dead for more years than I have been a member ( by a long shot) and I aim to change that, because they are the specialised, troll and idiot free place where people go to talk about more specific things than those covered by the current forums.
Background info:

First off, let me give you a bit of background info on the cults, and why they are useful. The cult consists of a news board updated by the leader, a forum section for discussion, and a photo and video area for uploading photos to do with the cult to.
Here is a list of some cults I am in:
I am quite keen on my summer setup and want to learn how to make the best jibs possible, so I am in the build a jib cult. Here you can ask pretty much any jib related question, and there is even a pretty high chance it has already been answered. This means that there is a specific, concentrated place for all like minded people with the same interests as me to talk, discuss ideas etc.
I am also in the Drummers cult because I really love drumming
Park builders cult because I really enjoy building features with friends and it is a super useful and interesting resource for this
The Euro BST cult because BST threads in the forum are only for the US
The trick tip forum so I can post any videos or queries about tricks I have attempted and failed, and usually get many replies for quickly with helpful advice, and the list goes on and on.
Here is a photo of part of the cults I am in: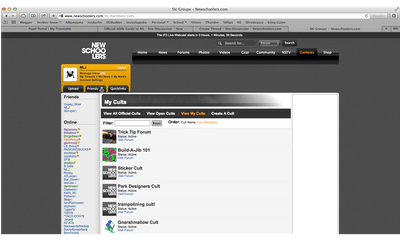 Joining and finding the Cults:

Next, how to join them and where to find them. If you hover over the community tab on your screen, you get several options on the pop down screen. Click on cults, and then on the page that comes up select view all official cults. Admittedly, it is a little hard to find specific cults now so I recommend using this thread as a resource. If you know of a good cult, post a link in here and include a couple lines about why it is useful and what it is about.
THIS IS AN IMPORTANT ASPECT, DON'T POST THE LINK ALONE IT CLOGS UP THE THREAD AND NOONE WILL CLICK ON IT.
Thanks, and sorry for the caps.
Here is a picture demonstrating both the drop down, and the following window: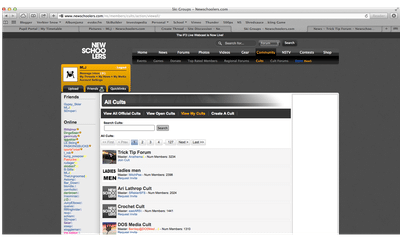 Cults Notification
System

Currently there is a really nifty little button at the top of each cult forum page that allows you to 'watch' the cult, like a thread that you post in in the rest of the forums. If you activate it any new activity or posts will go to 'My Threads'.
Pic: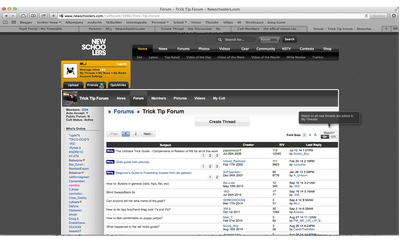 I think I covered all the most important stuff in this post, if not, feel free to add below and contribute, its for the good of NS. Also if you know any good cults, please contribute them here it will really help get the cults running again!
Thanks alot for spending so long to read this bigass block of text (if you actually have)
Stay steezy NS