Have you ever cracked or delamed your skis shortly after purchasing them?
Going in the local shop and only hearing that your skis are toast and putting in 50$+ would only be a waste of money.
Well, when living the lifestyle of a skier, you don't always have that much spare change to afford a pointless fix. So I decided to share my inquisitive ideas on HOW TO FIX YOUR SKIS for cheap.
As I skied for the first time with my new Halo IIs, it wasn't long after the tail cracked.
(PIC #1)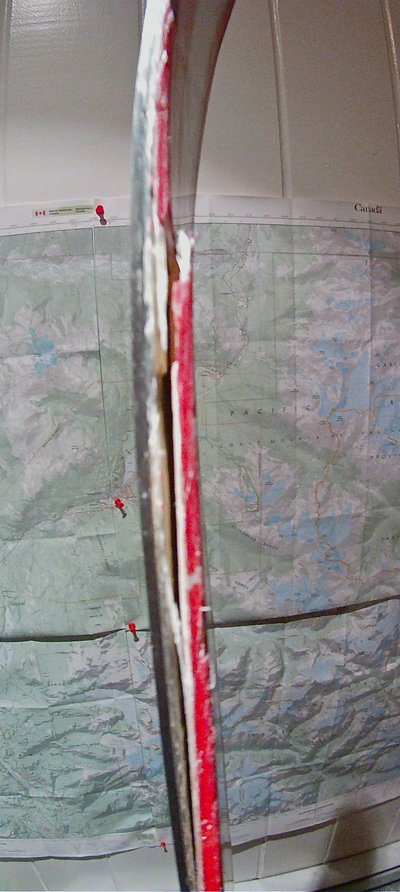 Being one of many, ski bum, I had to fix them because buying a new pair wasn't near possible. After a buddy of mine advised me to screw in brackets right into the ski, I quickly went to work.
(PIC #2)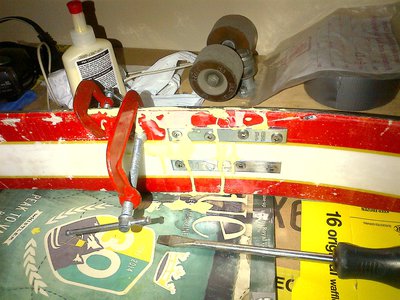 This is what I have been skiing on for the past 2 weeks now and it still holds up. Yes, the flex is indeed effected by such retainer, but it sure beats not having park skis. This repair job cost me roughly 11$.
During the hiatus of broken skis, I acquired myself some damaged ARVs. The heel piece had ripped out, thus making them unusable for many. I had the heel pieces redrilled (having bigger feet) for an 8-pack of brew. Unfortunately, after a crash, my ARVs had a delamination right at the heel pieces. (Both skis)
(PIC #3)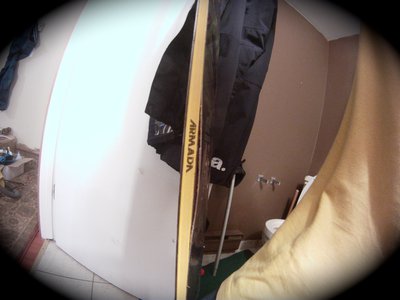 Now that I no longer had a legit pair of skis, I decided to operate on my ARVs in the same approach as with the Halos. Only this would be slightly more consequential being at the heel piece.
Now here is what you probably came here for:
TUTORIAL ON HOW TO FIX YOUR SKIS DURING CRACKS, DELAMS AND WTV HAPPENS TO SKIS.
Use:
- Brackets (PIC #4)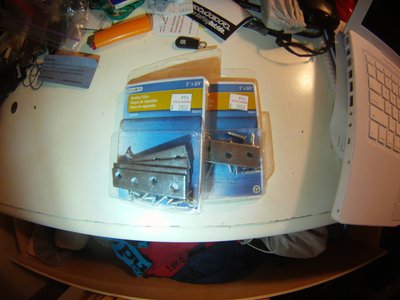 - Good glue (I used Gorilla Glue)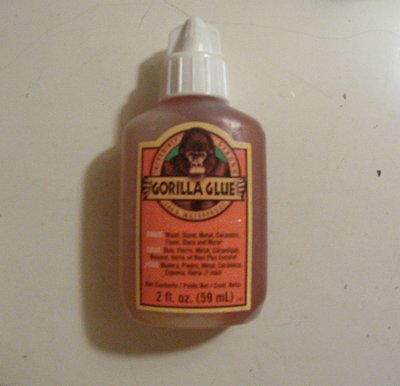 #1 Place the brackets in the affected area.
(PIC #5)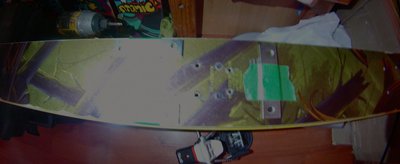 Drill holes about 1/8" right through the skis.
#2 Fill in the gap with glue.
I used Gorilla Glue rather than epoxy. Many say to use epoxy, but honestly that stuff is indeed one of the best bonding agents out there. However, it is bridle upon impact. therefore, when too much impact occurs, the glue is then reduced to powder and no longer holds your skis together. At first I didn't like Gorilla Glue that much because of its expansion and foam action. But I used it on a delam on my Nordica Radicts and it had held up for a whole season already, still skiing on them on pow days!
I attached rope at each ends of the ski to be able to flex it just like a bow. Doing so stretches the gap to expand, therefore having more maneuverability to fully cover the inside of the ski with glue.
I then filled the gap with a generous amount of glue flexing the ski by pulling the rope and creating a suction effect on the glue to get it deep inside -cuz she likes it-. I also used an old butter knife to shove the glue in further. Gorilla Glue expands X3-4 times its initial size, so much will leak out.
After applying the glue, now you have to install the brackets
#3 Install brackets
You may take you time with little rush when doing this one, because an advantage of Gorilla Glue, it does not set in 5 minutes, but rather 20ish, so you still have time to set yourself up and screw in the brackets tightly to close up the delam.
Use C clamps and whatever you may find at your disposal to clamp the rest of the surrounding lifted area. I used a vise grip and 2 C clamps.
NOTE: When putting in the clamps, try to find spare brackets to put directly on the base so the clamps don't damage the base.
#4 Wait
Go have a sandwich and come back the next day (24 hours).
#5 Clean up
Remove the excess glue with the combination of an exacto, your butter knife and optional sand paper.
Depending on the length size you took as screws, you may have to hacksaw the ends off. Then file them. If it's at the heel piece, grab a grinder and grind the excess away. This will rip some of your base off, but you'll simply patch it up with P-Tex.
I do not have a pic of this, but on my Halos, there are 8 screws at the base, practically flush with it, but slick enough to ride with no compromise.
#6 Set up
Add glue to the binding holes and screw in your bindings back in with a screw driver not a drill, you don't want to strip the holes, if not this whole How To is plain useless.
Wax 'em up and go shred!
Hope this can salvage many pairs of skis.
Enjoy the rest of your season!
PS: I did not end up using the brackets on my ARVs because YOU HAVE TO DRILL HOLES. If you do not do so, you will break the screws inside your skis and might be stuck with a lump at the base which is not ideal.
Use brackets on cracks and when needed.
Skied on them today and I am so stoked on the repair job!