Here's what I have, they're all brand new. I will admit that I got them in the Smash and Grab, so if you want to buy them (will only sell if I have buyer/trader for each one) they're 22+shipping each, so if you want all four it's going to be 88+shipping, pretty good deal in my opinion, I will not go any lower so don't even bother asking.
XL
- brothers of the blade in the black with white/red font
- never elected in grey

3XL
- Bandit crewneck in grey
- Chopping wood in grey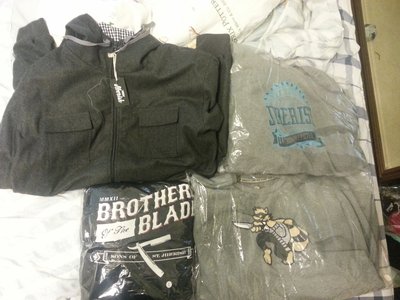 PRIORITY GOES TO TRADERS: I'm looking for any jiberish in XL-4XL (if you have an A la mode or a junglecat or a script hoodie I would be down to trade two for one), Stept, Yoke, Tomahawk, etc. (cool shirts and hats and shit are fine too, I'm pretty reasonable) Let me know!