Flat Rate Shipping to the US:
1 Hoody = $15.00
1 Shirt = $8.00
Canada:
1 Hoody = $12.00
1 Shirt = $5.00
PayPal Only, thanks!
No Trades Unless it's DSLR Equipment (LowePro, Nikon, Etc.)
Large Hatchman Blue (2009-2010)
A few minor stains and some pilling, still in great condition though.
$20.00 USD
Medium Royally Fitted Black (2008-2009)
New with tags, there was some pilling on the ribbing when I got it here on NS. Flawless other than that.
$30.00 USD
Large Jiberish Olive Rugby (Summer 2008?)
Practically flawless, I don't think you can find one in this condition.
$20$ USD
Medium Sample Savings and Loans Tee Gray (Summer 2011)
Some pilling, no stains or cracking.
$10 USD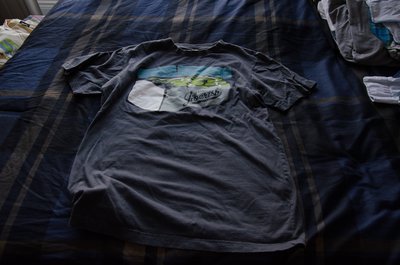 XL Summer Stacked Cream (Summer 2011)
Minor pilling, other than that flawless.
$10 USD
Large Key Shirt Green (Summer 2008?)
Seen better days, some cracking but still has some good life left!
$10 USD