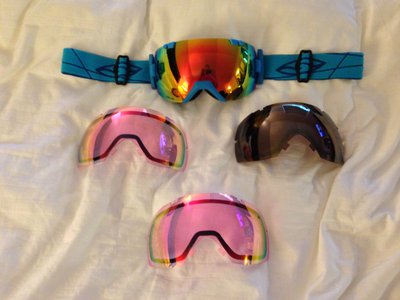 Blue I/OX for sale (9/10). Comes with 4 lenses. All were purchased last year and have less than a season on them.
Gold Sol-X: 9/10 Darkest tint from smith ($55 new)
Red Sol-X: 9/10 Pretty dark, nice mirror ($55 new)
Red Sensor Mirror: 9/10 Great low light lense ($55 new)
Photochromatic Red Sensor Mirror: 8/10 ($100 new) This lense was new last year and is super badass. Gets darker as the light comes out, gets lighter as the outside light dims. Honestly, you can use this lense for everything short of the sunniest days, which is why there are the other two Sol-X as well.
Payment via Paypal or you send a check. I'll ship once I have the money.
Price: $150 includes shipping, you can make an offer, but look at the cost of the lenses....
WILL NOT SPLIT UP, unless you can secure the sale of the items.