As some of you may know, David Lesh is a professional skier and founder of Virtika Outerwear (formally First Drop). He has been involved in freestyle skiing since the beginning of the sport and is a long-time contributor on NS (he is member #12). Lesh spent his early years in India with his parents, speaking Hindi, English, and Marathi. He was the only white kid in a city of over a million people.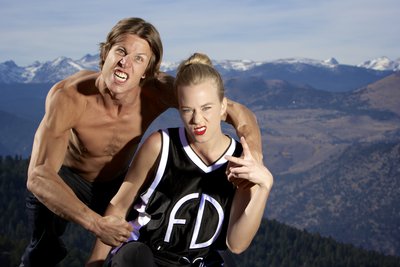 Lesh and his girlfriend Katie
After moving to Madison, Wisconsin, he began freestyle skiing at 150ft tall Tyrol Basin in 1995. Twin tips were not available yet, so he boiled the tails of straight skis in water and bent them under a door to make his own twin tips.
After high school, he moved to Portland, OR where he coached Windells and got his first sponsors. He moved to Colorado in 2005 and began filming with Level 1, Rage, Two Plank, Shades of Gray, and other companies.
Lesh then began traveling and competing internationally, and was published in most major ski mags. He grew unhappy with the lack of dope outerwear available, sewed his own suit in 2008, and founded Virtika in 2009.
David drives in the presidential motorcade and discusses small business with President Obama.
David creates the very controversial videos Last Friday, The Apology Video, and This Friday.
Lesh is a pilot, felon, party animal, traveler, photographer, entrepreneur, videographer, hobo, skier, nerd, designer, and everything in between. Aside from your grandma, he is possibly one of the nicest, down to earth people you'll meet and is very honest and open about his past, personal life, and his business. This is your opportunity to ask him ANYTHING you want.
Here's how this Q&A works:
1) You post your question in here
2) You upvote questions you like
3) I choose ten questions, and send them to David
4) David chooses a few more questions, and posts the Q&A in the news section
5) You guys post more questions in the comment section -- he answers them if he wants!