StartFragment
Haven't been able to get your hands on the new hundred dollar bill released days ago by the US government. How about one with the signatures of your favorite freeskiers…
On the front of the bill we have two of the lesser known but equally as stylish McChesney brothers, Brett and Ben, coupled along with some of the amazing new color/shape shifting features of the new bill. The signatures are artistically divided by the blue holographic strip which changes from the liberty bell to the denomination of the bill depending on the angle of view.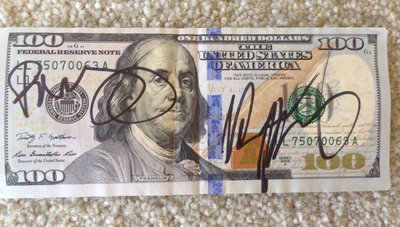 As you flip the bill over to the back you will be greeted with not only a secret watermark portrait of Benjamin Franklin, one of the founding fathers of this great country, but a pair of signatures from some of the best skiers in the business right now. If you are big on symbolism look no further than this perfect conversation piece. Sprawling left to right across the hall of independence are Tim McChesney and Mike Hornbecks autographs under the the bills heading "The United States of America."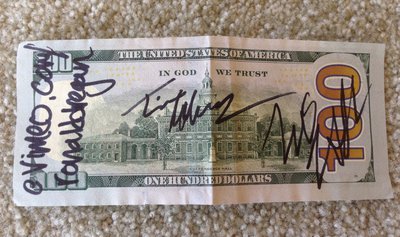 This would be a great display piece for a living room or bedroom. What says luxury and class like displaying your new hundred dollar bill with the penmanship of your favorites skiers instead of spending it. Additional features include a link to one of the premier underground video series on the market today, Knew Knowledge, nestled in the left corner of the bill.
Kohl Schoening and Evan Williams as well as other respected newschoolers associates will vouch for the credibility of myself as well as this sale.
Lets start the bidding at $107.
EndFragment