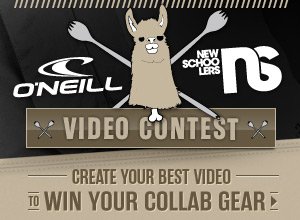 We're pretty proud of the new jacket we collaborated with O'Neill to create --so excited that we want to hook three people up with one for themselves.

The catch is that we also believe in the value that "hard work pays off," so we want you to create a 15-30 second long video either telling us why you deserve one of these sweet pieces of outerwear, or a video that best promotes the collab. You can be funny, clever, witty, straight-to-the-point, whatever you think will win the support of your friends and peers to get you the voted to the top 3.

This is what we came up with...