Yo NS, I got two mega dope items today.
First: Sz. L Alps Fatigue Anomie Pants (9/10) - These are arguably the sickest pants Saga has ever created. For being larges they are so damn steezy. They are in amazing shape!!!
This is a longshot but I want to trade them for the same pant in XL or Saga's 13/14 anomie camo pant. Besides that no trades, and if im gonna sell the offers gotta be pretty amazing!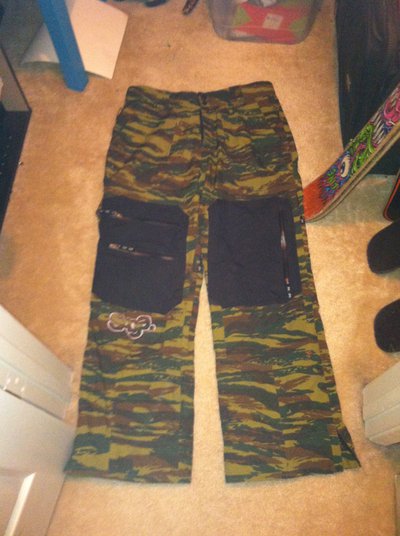 Last: 170 Magic J's w/ Salomon STH 14 (7.5-8/10) - These skis are money man, a stompier, more stable, wide JJ essentialy. They are mounted up with Salomon STH 14's. These are the first and only mount on the skis. The bases are in great shape, topsheets have a little wear and tear, not much. No edge cracks. The only thing is that on the top of the left ski there is a tiny tiny bit of delamination(i think thats what it is). And the brake on the right ski's binding is broke, super cheap fix though.
I want to trade these for 12/13 Magic J's w/ bindings (180) or 12/13 Bentchetlers w/ bindings (183) or 13/14 Magic J's or 13/14 Bentchetlers (bindings not necessary if 13/14). Besides that offer other pow skis, or I will sell them if the price is right.