Sometimes I think we need a gentle reminder to maybe take a few minutes to
research
the pair of skis we're considering buying. Whether that be from the information a manufacturer provides on their website, a review website like
http://blistergearreview.com/
, or by doing a Google site search for NewSchoolers (because let's admit it, the NS' search bar SUCKS!) kind of like so:
http://lmgtfy.com/?q=site%3A+newschoolers+K2+sight+skis
When we
neglect
to do so, things like this start to happen: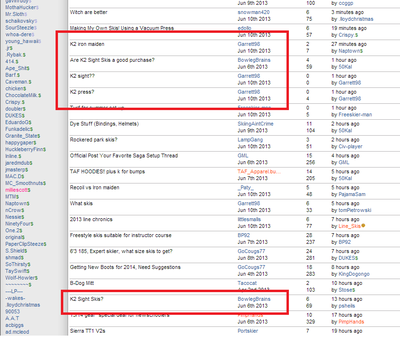 Two guys who could have easily
bumped
old threads, bumped their
own
threads, or could have made
one single thread
. It gets annoying when there are so many of these threads where the OP can't do any of their own research and critical thinking to make a decision when buying skis, and expects everyone else to do it for them.
If you can't find any info on a pair of skis, whether a new model year, or an entirely new ski, then go ahead, that would warrant making a thread. But if you can bump an old thread, or even find your answer in one, then don't make a new thread.
So please, make use of Google's site search function, review websites, and some manufacturer information before you instantly jump to making a thread.
THANKS! /PSA.