Well, I went seeking for some powder at my mountain. Sno Mountain PA. Very shitty place indeed. Anyways, took some glades and ended up on a closed trail and unfortunately after trying to ski that shit, I had to walk it since they were making a lot of snow on that trail. When I got to the bottom I found myself surrounded by ski patrol. They took me up to the top of the lift and this faggot as so called manager took my pass, clipped it and then took it. I wasn't suppose to ski the rest of the day and then I had to get one of my parents to get it back for me. I eventually had my dad come and get the pass back. Went back skiing maybe a half hour later. (badass I know) Then the lift attendants found out that I was not suppose to be skiing, told me to stop skiing. Then on my way back to the lodge skied over a snowmaker electrical cord and then proceeded to get into more trouble. Fuck this mountain, why the hell are they so strict.
Said trail I walked down.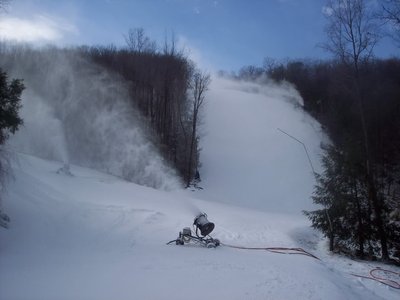 Oh and the person who took my pass wears a fucking cowboy hat everywhere.
Oh and I dont have a single clue why I posted this, but I am pissed off.