Alright, here is what I got: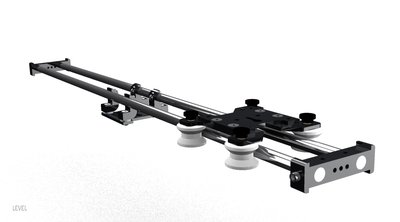 It is a modular slider that utilizes multi-functional pieces to create a range of video motion products. It is tripod mountable or can be used on a flat surface with the use of optional "legs" for each end.
Currently there are four core pieces (one not shown) that can be used to make a slider, crane, cable cam, rig for follow focus and mattebox and more to come.
I am trying to get some user feedback as to who would be interested in a product like this, currently the parts are being water jetted and are expected back later this week. The initial prototype should be done within two weeks if plans go accordingly.
Some things I am working on for the slider include a drag inducing system to control the feel and speed, manual crank capabilities and in the long-term, servo controlled movement.
I am working with manufactures and pushing for $199-$249 for the bare slider and required components shown (More towards $249)
What kind of interest would you have has a user if you could purchase a kit that includes the parts to build the listed devices and more?
Would you rather just get an assembled slider...or whatever device you ordered?
Please provide some feedback.