I always used to buy my tall tees from Finish Line, but they stopped carrying them online, so I searched around a little and found Pro5. I bought a 5xlt long sleeve and a 3xlt short sleeve, and they are by far the highest quality tall tees I've ever had. I'm not usually one to suck a company's dick like this, but they make a damn good shirt, so I thought I'd share with you guys.
They are ultra heavy weight, relatively inexpensive, come in sizes up to 42" tall, and unlike most shirts which come in sizes like these they are actually quite slim.
You do have to create an account to order from them, which is kind of annoying, but it was very easy and well worth it (I haven't gotten any emails from them other than my order confirmation). Also, they shipped very quickly and take PayPal.
Here's their website:
http://pro5usa.com
And their sizing chart: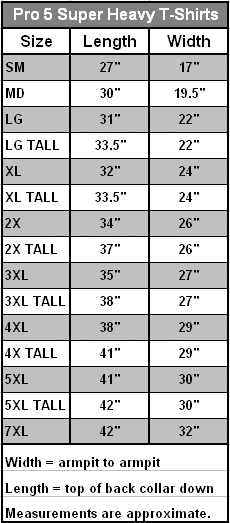 If you're in the market for some tall tees, check em' out