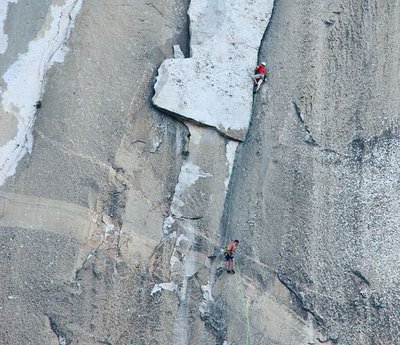 Alex and Hans climb the nose.
Two weekends ago Hans Florine and I climbed the Nose of El Capitan in 2:23:46, setting a new speed record in front of a very supportive crowd gathered in El Cap Meadows.
The thing about speed climbing is that it's not really about climbing fast.
Smooth efficiency takes the place of actual fast movement, especially on a route as long as the Nose. It's more about having all your systems dialed and not making mistakes than running as fast as you can and dynoing for holds. And that's what makes the whole speed climbing game so rewarding - when you do it well you climb smoothly and perfectly, which is one of the best feelings in climbing.
We did have a lot of slack out in places and occasionally took each other off belay, but at all the hard parts the leader would be on a real belay. Whenever we were aid climbing or trusting fixed gear we would be on a normal belay.
And most importantly, we always had at least two pieces of gear between us, meaning that under no circumstances, even worst-case scenario type situations, could we actually fall completely off the face. We might be looking at potentially long falls in places, but something would always have caught us, and on a cliff as steep and clean as El Cap sometimes falls like that work out ok.
As Hans always says, "Safety first, fun second, speed third."
In all our attempts on the Nose we always followed these rules, which is part of what made the whole experience so fun.