My AoS have only been mounted once and I want to remount them with another pair of bindings. They are mounted with Salomon z12 or z11 bindings at dead center and I wanted to remount them with Marker Griffon. My dad is worried that mounting my skis a second time will weaken the ski a considerable amount and he doesnt think its worth it to get a remount. I dont think its bad to remount my skis again because it's only the second time. I want to know what you guys think about getting them remounted? Is a good idea or not and how far back would the griffons have to be mounted from dead center because of the first mount. Thanks
This is a far shot but if anyone reading this has a pair of 177 Ace of Spades from the 2010/2011season in pretty good condition( or brand new) let me know if youre willing to trade/ sell. I doubt it tho but my 170 are getting alittle small so I thought I'd give it a chance.
(with these graphics)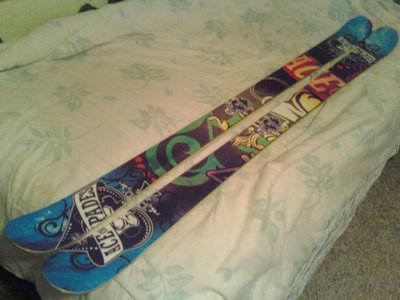 This thread is supposed to be about remounting the AoS and want to keep the topic mostly on that buttttt..........If anyone knows anything about the Atomic team ffg 14 bindings, like durability and performance AND if they can fit on the Ninthward Butterlicious 05/06 skis I would reward you soooooo much karma haha. I really need some advice and recommendations and I figured making 1 thread would be best. PLEASE HELP ME OUT!!!!