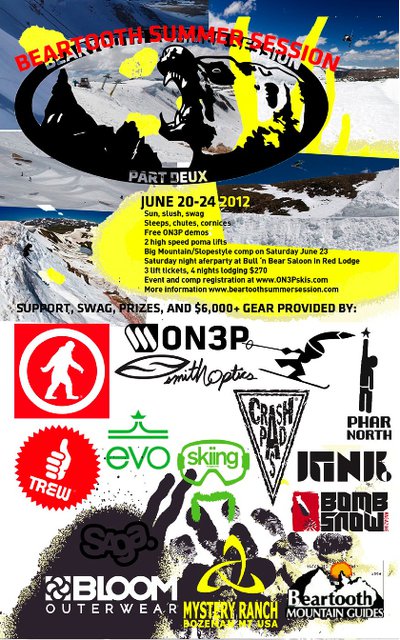 Just wanted to spread some summer ski stoke. The 2nd Annual Beartooth Summer Session is set to begin in 5 days. We have been working hard to make this session as awesome and affordable as possible. Think of it like summer camp without coaches.
Anyway, we have a few deals going right now. First, the Beartooth Summer Session Pass costs $270, gets you 3 lift tickets, 4 nights accommodation, meet and greet dinner, free Phar North/Beartooth Summer Session 100% domestic t shirt, raffle tickets, and lots of free swag just for showing up.
We also have a gourmet meal plan for sale. $45 gets 7 home-cooked meals, 4 breakfasts, and 3 dinners. A friend of ours is going to all the work to cook for the session and is only trying to break even on food purchases.
On Saturday, June 23 the session will peak with a big mountain slopestyle competition. The competition will be free to enter, and while supplies last, each competitor will get a free Beartooth Summer Session/Phar North t shirt.
We have a few more prizes to pick up on the drive to Montana. This is what we have in our shop to give away. $6,000 in gear. This gear will be given away as comp prizes, raffle items, and tossed out during the session.
This is what $6,000 in free gear looks like.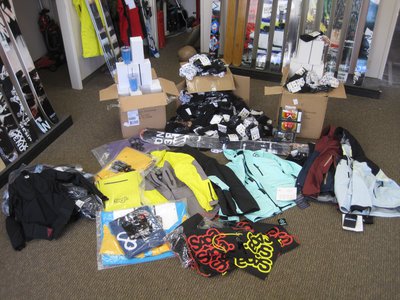 Rally some friends, hop in a car and find a way to Montana. The more people who show up, the better the session will be.
Registration:
http://on3pskis.myshopify.com/collections/beartooth-summer-session
1st Annual Beartooth Summer Session recap:
If you have any questions, please post in the thread or email kip@on3pskis.com
Thanks