Whatup NS? Heres a little something for all you bikers out there!
Today I am selling my 2011 Stolen Casino Bike.
Condition: 8.5/10
I bought this bike last summer when I was really into biking. I rode it for that whole summer and then about a week or two into this summer, so it is lightly used and in great condition!
I am selling this because I need some quick cash, and my buddies and I are not really into biking anymore.
I have put exaclty $240.33 worth of custom parts into this bike. Stolen Casinos right now, brand new go for around $280 (stock). I am willing to sell mine for $250. Not only do all the custom parts that I have put into this bike make it ride, and work better, but they make it look fucking sick. This bike is sure to catch the lady's eye. Just look at this bad boy!
Here is a list of all the custom parts I have put into the bike: Willing to sell as individuals!
Fit FAF tires (Red Side Walls) only rode on the a couple time
Diatec D-Cup Headset
Eastern Medusa light fordged V2 sprocket (Just Got Installed)
ODI Long Neck Grips
Red Odyssey Twisted PC Pedals
Verde Cartel 2 Fork
also have a brand new bottom bracket (Not Installed) because i didnt have the tools.
http://www.danscomp.com/shop-BIKES/Stolen.html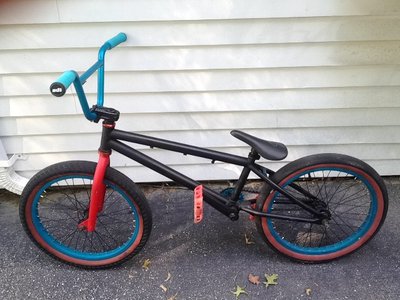 Message me for more pictures or pictures of individual parts!
+k for love
- k for hate