Welcome to the MAX temp challenge!!!!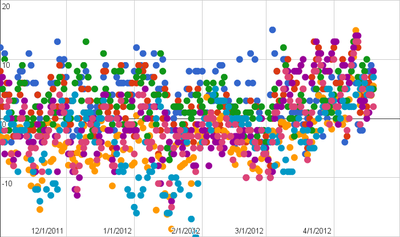 What you are looking at is a splatter chart. Showcasing the daily high temp recorded from several locations across the west in Celsius. Your challenge, is to match the location to the color.
1st and only prize, bragging rights and +k! Possibly an ehighfive. still trying to work that out.
LOCATIONS:
Wyoming
California
Utah
Interior BC
Colorado
Alaska
Washington
Colors:
Red
Orange
Blue
Aqua
Green
Purple
Pink
Keep in mind, this is the daily high, not the average. Recorded daily between Nov1st-April 20th.
Good luck NS!