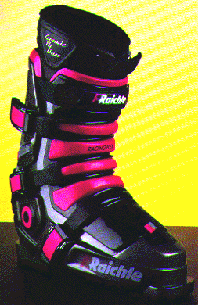 There is one of these on display at the denver museum! designed in 1970s, this design is amazing, and people like seth morrison and mcconkey were using super old ones because they had stopped being produced.
Now, there are too many companies to count that are all producing the same design. RIPOFFS! to be honest
not one of these companies have tried to give us more, just take our money with over priced out dated designs.
Yes! there is more to come! im still not satisfied with the most expensive raichele designed boot available (il moro). it gives me plenty of flex to press and ollie, but i describe them as flat tires.
Rocker Technology has developed a raichele designed boot with a twist. I tested a prototype (radically designed snowboard boot/bindings with rocker technology) a few years back to test the technologies improvment upon the current boot design. soon we will have boots that not only flex properly, but will be designed for freestyle maneuvers. I call firsties.