I will rate condition based on the following: Lens, Strap, Frame (Foam/Plastic/Riggers) on a scale of 10/10 with 10/10 being NIB.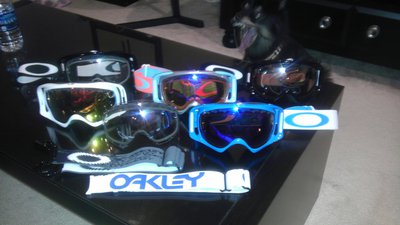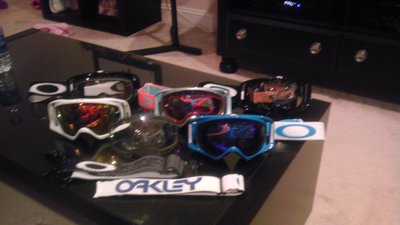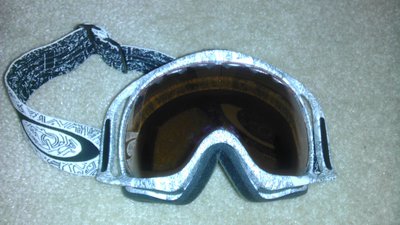 1. Jet Black w/ Clear Lens 10/10
2. Jet Black w/ Black Irridium Lens(Murdered) 10/10
3. Chrome Frame/Baby Blue Riggers/Match Orange & Baby Blue Strap w/ High Intensity Persimmon 9/10
-Frame: 10/10: Like new
-Strap: 9/10: No pilling, but slight waves in strap near rigger (common to crowbar straps)
-Lens: 9.75/10: Tiny nick directly between eyes. About the size of a pin head. (Matches perfectly w/ strap)
4. White/Blue Retro Setup w/ Fire Irridium Lens 9.5/10 (You WON'T find another pair in this good of condition!)
-Frame: 9/10: Only because they have been worn.
-Strap: 9.5/10: Slight waves in strap by riggers (hardly noticeable), no pilling.
-Lens: 9.5/10: Small nick between eyes, pin sized.
5. Jewel Blue w/ Blue Irridium Lens 10/10
6. Factory Text w/ Black Irridium Lens 10/10
7. Replacement Crowbar Clear Lens 10/10
8. Black/Grey Retro Strap (Never see these) 10/10
9. Black Riggers 10/10
Post offers in this thread. Only trades I'm looking for are for other NEW or 9/10 girly Crowbars.