My friends and I go to a small prep school in rural Maine called Kents Hill School. We have our own small ski hill which we have a park set up on, with a few jumps and rails, including a large A-Frame rail. Over the last few weeks, we've had a strange mix of rain in the day time, and sub-zero temperatures at night, and as a result, the landings on all of the features are solid ice.
Today, my friend Will (who was formerly sponsored by 4frnt), went to disaster on to the A-frame. He overshot it, and just barely kissed the end of it, leaving him self no time to shift into riding switch and land his trick. He hit the landing sideways and caught his front edge with so much force that it literally bent his knee sideways. It took us 20 minutes to get him on the emergency sled, and he is in the hospital being treated as we speak; for injuries which will almost certainly put him out for the rest of the season.
Last week my friend Reid, who is also a very advanced skier, significantly overshot the rail and double ejected, slamming his head on the icy landing. Luckily, he had a helmet on, because if he hadn't, there is a very good chance that it would have killed him. He has been on bed rest for a week, and there is a good chance that he too will be out for the rest of the season. Hopefully those will be the only consequences, and no permanent brain damage was done.
Our sport is an addictive one, and it's all about progression and how hard we can push ourselves. These things are all great, but they also make it very easy to lose sight of how dangerous skiing can be. Regardless of your age, style of skiing, or how good you are, every time you hit the slopes you are taking a huge risk. Just in the last week, a man died at my local mountain (Sugarloaf) on one of the easiest trails because he lost control on a patch of ice and hit a tree, and the two best skiers on my freestyle team have been injured to the point of hospitalization.
Now don't get me wrong, I'm not trying to discourage anyone from skiing. I'm simply asking you all to take a minute to think about the dangers of our sport, and to honor those who have been seriously injured in the pursuit of it's progression, or have died for it. Please, know your limits, and make sure to test them occasionally, but be smart, and
ALWAYS WEAR A HELMET.
For those of you who choose not to heed my advice, thank you for taking a minute to read this anyways. I shred for Will, Reid, and everyone who has ever laid their lives on the line, or in some cases, lost them for our sport; and I ask that you all do the same.
This is Will, doing a 2-7 on pretz 2-7 out on our preseason setup.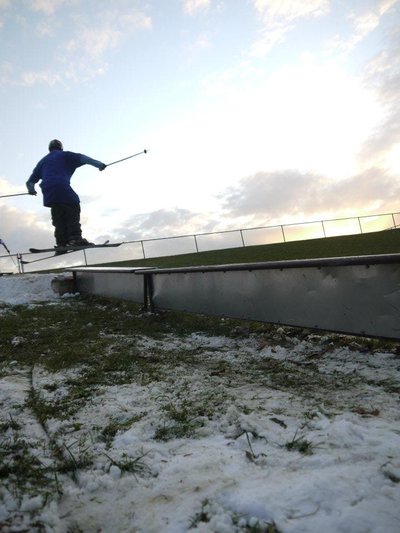 And here's Reid front swapping the same box.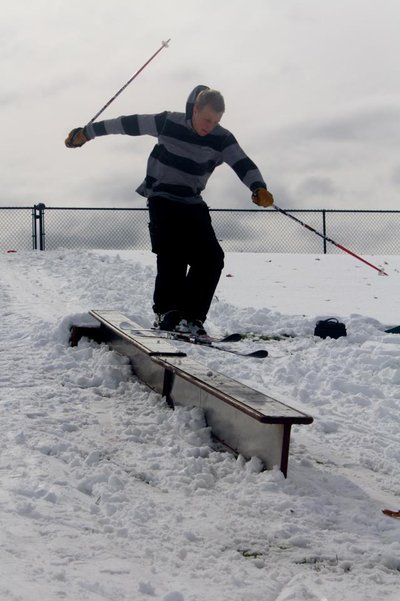 Most of you probably don't care, but for the few who do, please have these two in your thoughts and prayers; they will definitely be in mine.
Thank you.