IT'S THE FUCKING HOLIDAYS AND ALL YA'LL ARE PROBABLY GETTING NEW JIBERISH, AND SNOWPANTS IN THE MAIL BUT YOU CAN'T WEAR THAT SHIT ALL THE TIME. IT'S BRAND. FUCKING. NEW. THAT'S WHERE I COME IN.
FIRST OFF, SHOUTOUT TO MY BOI PYROKARMA FOR NO REASON.
So first up we got da tight pants. Some burton kids pants that have been sewn in (by moi) needless to say i'm the shit at sewing and these have held up for 15+ days. the pants themselves could be considered rags. prolly 4.5/10. inside of the pans is fine but there are various slits in the outer fabric from where there used to be pockets.
MAKE AN OFFER
Next up we got some holden standards size large, 2 pairs actually. First pair is about an 8/10. Bottom zippers are busted and there are some marks on the pants but overall they're in good shape. second pair is an off white.
$70 SHIPPED for first pair, $60 shipped for second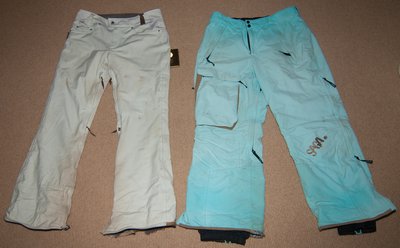 (SAGA PANTS SOLD)
THIRDSKIS, we got this dank ass Pinswipes in the 5xl size (a little bigger than my 3xl LOHI). thing looks fresh, bought it outta smash and grab. sellin' it like it's smash and grab.
I PAID $35, WANT $35 (or trade offers)
Eighth is my poofy jiberish Puffeh vest, oceans colorway in 4XL. this shit's legit as fuck. super under rated piece, WARM AS A TAUNTAUN. Worn skiing a few times, worn around a bunch more. Still in brand new condition 9.5/10. it's about the same length as my 3xl LOHI minus the ribbing.
MAKE AN OFFER.
AND FINALLY, THE BEST OF THE BEST THIS HEADY 4XL BIRD IS THE WORD MOTHERFUCKER. THIS SHIT'S TEAM SIZED. condition could be better with a trip around the washing machine. cuffs are a wee dirty. Bought it off 'a Oboe and wore it maybe 5 times. big thing about this is the hole in the left arm (shown) could easily be patched up, but realized that i never fucking noticed it when skiing.
MAKE AN OFFER.
WHEN I SAY "MAKE AN OFFER" I AM REEFERING DIRECTLY TO LAST YEARS JIBERISH FLANNELS (size xl or 2xl) CASH MONEY, OR OTHER L OR XL JIBERISH PIECES. PM ME WITH OFFERS
The one catch, i leave to go back to school (in the south) next friday. So i'm mailing all this shit on thursday. Which means that best offer by MIDNIGHT WEDNESDAY NIGHT is what thanks whatever it is you want.