I recently bought a HEAD Bullet 84 twin-tip skis, 171 cm long. The shop mounted the bindings aligning the boot center mark with the ski center mark (i.e., perfectly centered on skis). I feel that this is way too far forward. I skied for the first time this weekend and didn't like it (actually I hated it). It feels like it has too much tail. I felt like I was all the time trying to seat back on the skis.
The skis have markings on the side wall with suggestion for where to mount for "Park & Pipe" and for "Freeride". The "Park & Pipe" boot center mark is 2 centimeters (0.79 in) behind the ski center mark. The "Freeride" mark is 8 centimeters (3.15 in) behind the ski center mark. I am attaching a picture showing the markings on the skis.
I plan on bringing it to a shop for re-drilling and re-mounting the bindings further back. My main QUESTION is, how far back should I mount it this time? I want it for all-mountain (mostly downhill) riding. I also plan on using them for snow kitting (traction kite sailing).
Is it a big bummer that I will be re-drilling brand new skis? Does it affect its structural integrity?
I do most of my kite sailing on a frozen lake with poor snow coverage, so maintaining edge on ice is the most important requirement. I am tempted to move the bindings all the way back to the "Freeride" mark since I hated the centered position. Does anyone have a recommendation? Do you think that 8 cms from ski center is too much or can I trust the marking recommendation from HEAD? Is anyone there with kite skiing experience using twin-tip skis?
I have many years of snowboarding experience, and have done all my snow kiting with boards. I consider myself an intermediate skier but have never owned my own pair. All my skiing experience has been with rental skis (this is the first time with twin-tips). I am capable of skiing black and double black diamond runs (Snowshoe and Killington).
Skis dimensions are: 121-84-110, length is 171 cm
I am 5'11'' tall, 180lbs'
Where I ride most often is hard-pack icy conditions.
Thanks,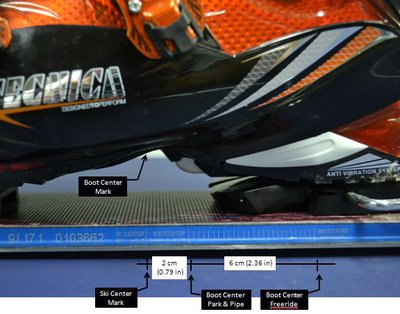 Brazuca