So yeah, I figured that for the amount of skiing I do weekly (3-4 days max), I dont need 10 + sweaters sitting in my closet just to feel like a total newschoolers bad ass.
No I dont want any trades, unless that trade is virtual paypal money.
No I did not strategically plan this before a jiberish drop... (or did I ;).)
1.XL Sleeper (9.5/10) The pride of jiberish fans in general... Probably the softest hoodie on the planet, best design (imo) and in pretty much immaculate condition. No stains, no rips.. I guarantee that you will not find a better condition sleeper in this size.
2.5xl Blue nerd (8.75/10) Previously owned by pelle_munch, he put this sick black and white climbing shoelace through the bottom ribbing that matches the pocket/hood perfectly. The lace hangs out the right side of the ribbing and looks G as fuck and tightens the ribbing!.
StartFragment EndFragment
3.XXXL Black Microknit (9.5/10) Zipper length: 38 inches. basically new, nothing wrong with it. Still has the tag... no piling, rips, stains.. nothing. (using the images from previous owner, I can get more if necessary)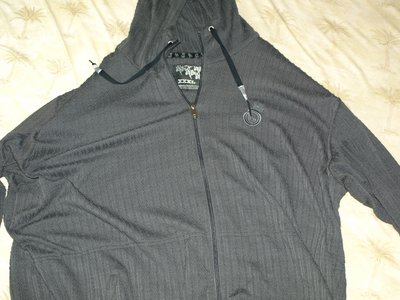 4.XL Sign of Birds (9.5/10) Looks new. What can I say... undoubtedly the sexiest jiberish shirt ever created.. (Stock image cause im not at my moms atm, but I can get a real picture if absolutely necessary)
A little tentative on this piece but offer up...
5.XL Yellow Raindance (9.5/10) (stock image cause its brand new, just taken out of plastic)
6. Xl White Organics (9.5/10), 3xl Black/Grey Jiberish Polo (9.5/10), Saga thermal (8.5/10)
also selling this for a buddy:

Weight, 21.1 grams, 8GB, FM Radio (its actually very good),
24 hours of tunes on a full charge,
charge time: 1.5 hours for 80% and 3 hours for 100%,
Mono Audio if you like to rock the single bud,
Voice Over so you dont have to take it out to select a song or playlist, and can work up to 10,000 feet!!
A few scratches but barely used and never dropped.
So yeah...
PM ME WITH OFFERS, I WILL DO MY BEST TO KEEP THE H/O's UPDATED.
Thanks!
Alf_alfa
ps. seing them tomorow.. so stoked..
StartFragment EndFragment