Ok first I have a pair of 05.06 Fisher Kehuas size 177cm, 92mm waist, good powder ski for the smaller ripers, or a good park ski for the bigger skiers. it has been mounted twice, once with Sally s910's at -4 from center and another time for rossi scratch 120's about 5.5 cm back from center. it can easily be mounted closer to center again. there is a peice of edge missing that is a little back from center on one of the skis this can easily be fixed. or just left as is for a powder ski. as you can see it does not actualy effect the core $100 + shipping will come with some fischer stickers.
Ski on the right: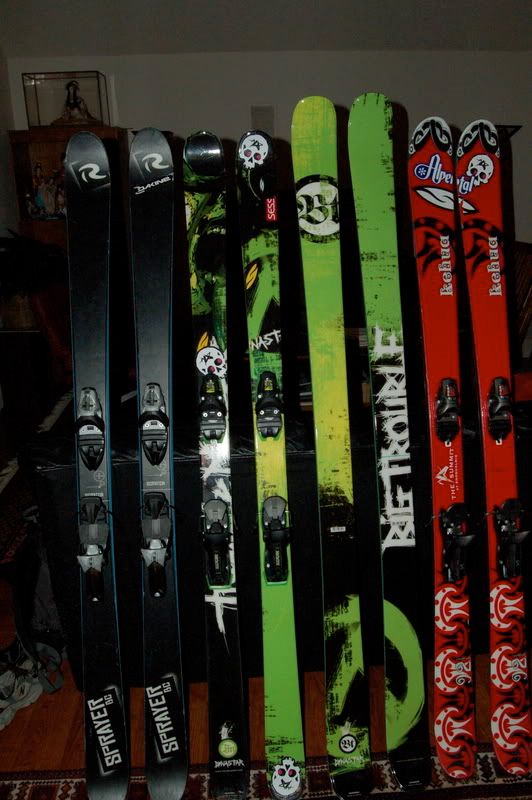 Next we have a pair of siver cartel pants form the first year (04-05) I think, they have a few rips and tears, are not very water proof but still keep you warm $60 + shipping
Also are two pairs of Dakine Scout gloves one size XL and used once and the other S and never used $30 each
Also is a Dakine nine.9 helmet size M with a few dents $20
And a Dakine Flex hat $10
the goggles are not for sale
there is also a smith visor benie hat $10 +shipping (or w/ the dakine hat for $15)
I have a pair of Nordica Easy move 10 boots size 25/25.5 $50
and a pair of Northwave snowboard boots size 26 $45
And I also have paintball stuff pictured make offers.
All prices are in USD and negotiable