Toyota One Hit Wonder 2011: Riders announced!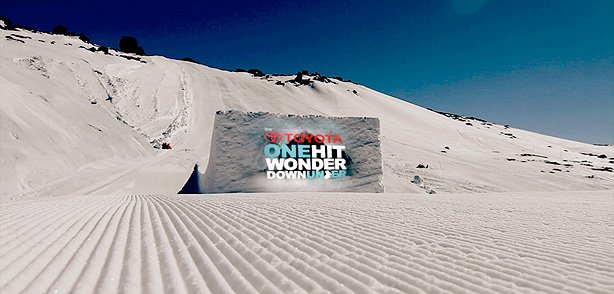 Piles upon piles of snow are being… well, piled up to form the biggest jump in the world right now (who knows how long that record will stand for). Some big name skiers are heading down under to get ready for the Toyota One Hit Wonder in Thredbo, which they're billing as the most anticipated big-air event on the Australian skiing calendar. And, let's be honest, they might be right.After a month long audition process, the following finalists will have from the 6th-10th of September to land their single best big-air trick on the 100ft Charles Beckinsale built jump. The winner, as voted by the public, will talk home $10,000.Bobby Brown (USA) Elias Ambuhl (SWI) Jossi Wells (NZL) Gus Kenworthy (USA) Joe Schuster (CAN) Chris Laker (USA) Anna Segal (VIC) Jesse Houghton (NSW) Jordan Houghton (NSW) Joss Christensen (USA) Jerome Lambert (FRA) Dhanu Sherpa (NSW)Eyes out for last year's victor Bobby Brown and Joss Christensen who recently won a gold at the 100% Pure Winter NZ Games. Want some more words from the guys at OHW? Have at it:"In a first for the Toyota One Hit Wonder, Winter X Games gold medalist and current slope-style World Champion, Melbournian Anna Segal, will face up against the men, showing off her prowess as Australia?s distinguished princess on the international contest circuit.?I know Jordan was feeling pretty confident until he found out that Anna is in the mix, but there is no reason she can?t step it up and throw down with the guys. I?ve got no doubt her style and finesse will impress the public voters,? says Event Director, Tim Myers.After the finalists have gone head-to-head in the monster jump, a virtual grandstand, made up of anyone connected to the Internet, will then have three weeks to vote online at
http://www.onehitwonderevent.com
for their single favorite big-air trick to take home $10,000, the biggest first place prize on the Australian events calendar.Each member of the public who votes will also go into the draw to win the ?Ultimate Winter Package? worth over $10,000. This includes an all-expenses-paid holiday for two to Hakuba Japan, staying at the luxurious Phoenix Hotel, a complete Salomon ski or snowboard package, Von Zipper eyewear, plus a GE DV1 HD Waterproof & Shockproof Video Camera to film the trip.As well as the people?s choice champion, the athletes themselves will vote at the end of the week to decide the NIXON peer performance award, who will take home a $659 NIXON 51-30 watch, to be awarded at the Schuss Bar after party on Saturday the 10th of September."Toyota One Hit Wonder: The 2011 Skiers are announced >>Related posts:Winter X 14: Riders List Announced It?s nearly upon us; the biggest freestyle event on the...Nissan Freeride World Tour Riders Announced It's been a long wet summer, but the winter has...2011 Toyota One Hit Wonder: Audition time! International and local riders are invited to audition and get...