Spring has Sprung at Alpine Meadows!
Now with over 14 feet of snow at the mid-mountain snow stake, spring skiing and riding will be the best ever! With conditions this good, you have to ski it to believe it! And with all the skiing/riding you are going to do, we can't expect you to leave without some on mountain fun! Check out Alpine's list of spring events. Alpine Meadows Spring Music Series brings bands like Sambada and the Allmond Brothers. If you are looking for a beach atmosphere Alpine style, don't miss the Spring Beach Bash at the Ice Bar on April 17th. Live Music from the Bandwagon, $5 drink specials, volleyball, horseshoes and more! Alpine's infamous Ice Bar will be open through April 18th. And don't forget, if you want to maximize your days on the hill without spending too much, the Spring Ticket for $99 guarantees you amazing skiing and riding!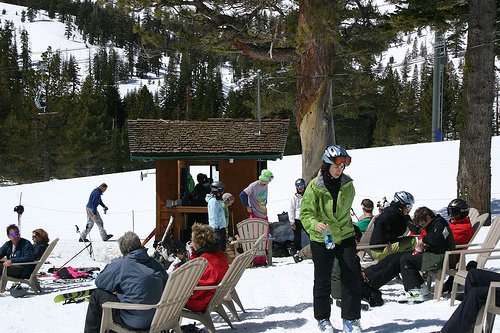 Spectacular groomed runs and off piste corn snow is the stuff that brings snow worshipers to Alpine Meadows. We are not the only ones enjoying the skiing. Luna, one of our patrol dogs is showing off her riding skills.