Showdown Throwdown Slopestyle is Coming!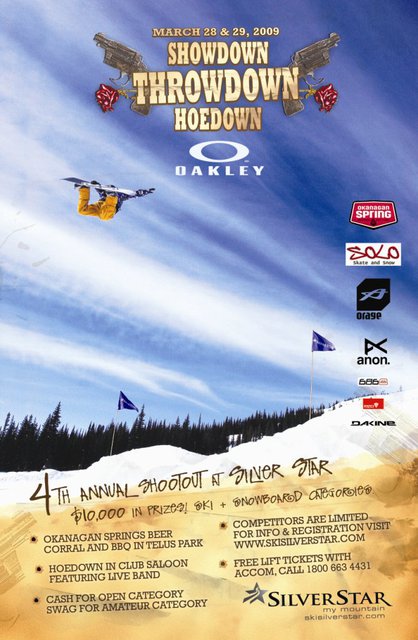 What a great winter it has been. The snow has been piling up and the park at Silver Star continues to grow. The final night Rail Jam is going to go down this Friday Night and the set-up is out of control. There will be a huge attendance as Silver Star is also playing host to the Canadian National freestyle series, with some of Canada's best skiers compete in Big air and Moguls. But not to over shadow the best event of the year....The Showdown Throwdown Hoedown is on it's way and the park crew has been busy planning one of the most incredible slopestyle line ever. The jumps will be silky smooth and the rails will flow. The BBQ/Beer Gardens will be huge and the after party will be messy! Not to miss! Huge cash prizes for Men and Womens Catagories. Do Not Miss Out. Check out the events page @ http://www.skisilverstar.com for details about the event and pre-registration info. Holla!
See you on the sunny Silver Star slopes!
TPDP32