Longest rail world record!
I got forwarded this email from a guy at ROI Recreation, a company that distributes Movement Skis in North America. It's pretty random, but the guy claims world record longest rail, and I thought to myself, "omg, this has gotta go on Newschoolers." Plus, the jump/wallride combo behind the rail is off the hook... so here it is! - kamikaze$$
Hi Guys, Iím back from Switzerland, discovering the Alps was an amazing trip. We didnít find any good snow but just being there and skiing in that kind of terrain was more than great. I had skied in Verbier and Chamonix and we have stoped by La Cluzas, Le Fort, Les 3 Vallées, Les Diablerets, Les Houches, St-Gervais-Les-Bains and much more to see how it look like for next year. Iíll be back there for sure, but in winter time.Great news : I won the Freeride Days comp in Camonix on april 29th. Part of the Dynastar International Team was in the comp and the Chamonix Freeride team was there as well so Iím stoked about that result. It was the world record longest rail.... 41.5 meters...soo long that I have burned my edges on my skis all the way to the sidewall...:-) not so good for a pair of ski!I had a meeting with the Movement crew in Vevey, Switzerland. I had the pleasure to met pretty much everybody working with us at the office, all great peoples as expected and the vibe in the office is really cool. Vevey itís an amazing town in a much more amazing location, surronded by huge mountains and on the shore of a pretty big lake (Léman Lake) that look much more like the sea than a lake. The water it's super clear, kind of light blue-green and water stay warm even in spring time!?? And yes guys, I saw some nice switzerland mini-skirts and bikinis girls waiting for me on the beach..mmmm summer.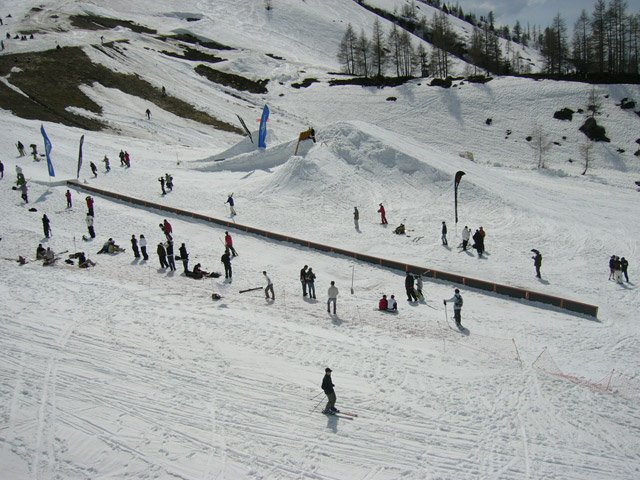 Some great touring is accessible from downtown Vevey with a tram that bring you up to the peaks..but it was too late and the snow wasn't that great around. Les Diablerets it's about 30 min from Vevey and I guess there is +50 ski resorts under 100kms from Vevey, crazy!!!!!Iím flying up to Sweden tomorow morning. We'll driving around and stopping by some touring spots. The NM Extreme freeski comp start on May 13th, so I'll keep you in touch of how it's going.Talk soonEnjoy the end of the seasonCiaoJay