K2 Releases the Much Anticipated K2 SKEEZE Magazine Volume 3
SEATTLE, Wash. (October 16, 2007) For the third consecutive year K2 has produced its own magazine documenting the lives, thoughts and pursuits of K2 sponsored athletes on and off the slopes. K2 once again hired a dedicated crew of SKEEZE Magazine staff photographers and writers to follow and capture each member of the diverse Factory Team. Their efforts paid off andwere pulled together into a 96-page magazine dedicated to promoting the youth movement in skiing through the eyes and thoughts of K2 athletes. The magazine is completely free and distributed through authorized K2 dealers worldwide.Volume 3 has a fun and irreverent tone that picks up where the first two installments left off. The magazine has a total of seven dedicated features that include an in-depth interview with K2 Factory Team legend, Seth Morrison. SKEEZE V3 also profiles an independent ski film chronicling the riding, filming and editing of Pep Fujas and Andy Mahre. The other features include a profile on K2 newest rising star, PK Hunder;Michelle Parker's involvement in the T:Nine Alliance test and development team; Shane McConkey's unique approach to his segment on MSP's newest ski film; and a trip to Japan with Chris Benchetler and super grom Sean Pettit. This issue also includes an opening Rant section where K2 riders discuss current topics that are relevant to the sport, a mock Gear Guidehighlighting the history of K2 product, and a section dedicated to graphics that picks apart some of the details that K2 riders help create.SKEEZE is targeted toward a 12- to 25-year-old demographic and its style and tone resonate with the intended audience. K2 looked within the youth-focused ski industry and brought on former editor-in-chief of the late Freeze magazine, Micah Abrams, and creative visionary Steve Beneski from Vogel Marketing Group to develop the issue. Abrams and Beneski previously workedtogether on Volume 2 of SKEEZE, and were both instrumental in the rise of Freeze magazine that was rich in culture and embodied the attitude of the youth movement in skiing for more than 10 years. SKEEZE recaptures the essence of Freeze in a soulful K2-centric manner. SKEEZE, volume 3, can be obtained through an authorized K2 dealer or by logging on to� http://www.k2skis.com� to request a free copy online.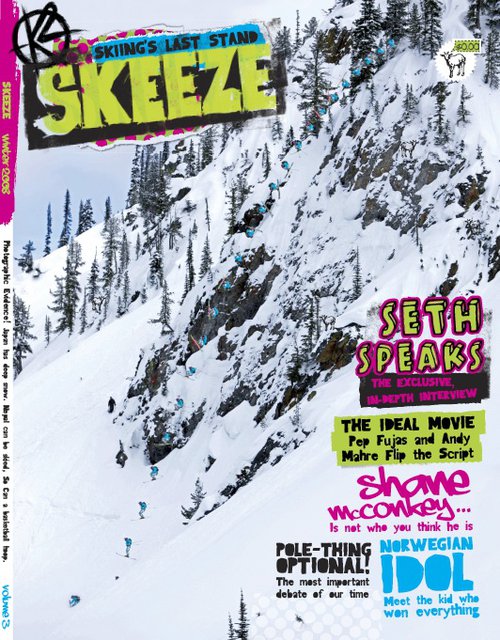 K2 is an athlete inspired company. The brand has a history of reinventing itself year after year to push the sport out of its comfort zone. The K2 Ski division is a part of Seattle-based K2 Sports family, a leading designer, manufacturer and marketer of K2 branded adrenalin-inspired products for winter and summer. Started 45 years ago, the K2 brand and businesses are world renowned as leaders in design, production, marketing and sales. For more information on K2's latest ski products, dealers and team activities, visit http://www.K2skis.com� .