Freeride World Tour: Chamonix ? Results and Highlights
Why waste your time writing something else for you to read when you can just read what they sent out! Perfect. We all get the same info then! Don't forget to check out the highlights of the winning runs!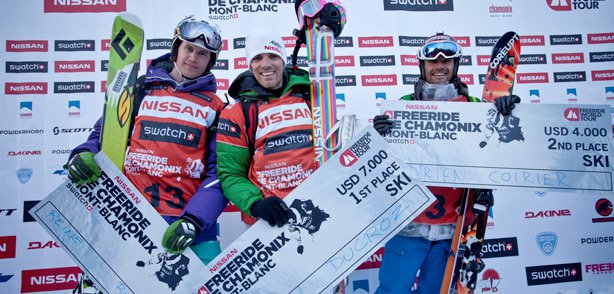 Chamonix Mont-Blanc, France ? January 23, 2011 ? The Nissan Freeride de Chamonix Mont-Blanc 2011 by Swatch went off in Courmayeur on the Italian side of Mont Blanc today. A strong field of freeriders were surprised by the quality of both the snow and the number of features. As a result, the north face of Mont Fortin produced high-quality runs that were fast and fluid with multiple airs. Nissan Freeride de Chamonix Mont-Blanc 2011 by SwatchThe world?s best freeriders kicked off the official Freeride World Tour in Courmayeur during a day that boasted an astonishingly high level of action. Although it was difficult to know what the conditions were going to be until they dropped in, riders reported they were really happy to find a face this good despite poor conditions throughout the Alps. The 300-meter face was crowned by three different starting options and competitors described it as having loads of playful line choices, any of which could have produced the winning run. In the end the day the competition was dominated by the French who took all three podium spots in men?s snowboarding and the top two spots in men?s ski.Ski Men It was Aurélien Ducroz?s (FRA) fast, smooth line and big, cleanly stomped airs that enabled the Chamonix local to return to glory and put him in the lead to regain his 2009 Freeride World Champion title. Setting the tone of the day, Adrien Coirier (FRA) has returned to 100% after two years of back injuries and opened the day with fast, committed skiing. Coirier?s line also proved to be a successful line for 3rd place Reine Barkered (SWE).Snowboard Men In the Men?s Snowboard division, Freeride World Champion Xavier de Le Rue (FRA) threw down what many thought to be the best run of the day with a fast clean double drop to straight line at the end of his run. With this win, de Le Rue continues his dominance of the Freeride World Tour by extending his streak of consecutive FWT wins to four.Ski Women Although the women all started from the same starting gate their lines were varied with many ladies focusing on fluidity. However, it was the impressive combination of fast, smooth lines combined with a couple of cleanly stuck airs that distanced Angel Collinson (USA) from the rest of the pack.Snowboard Women Today, it was the wild cards who stepped to the plate when freestyler Anne-Flore Marxer (FRA/SUI), competing in her rookie season of the tour, proved that women snowboarders can rip world class faces with aggressive grace. Second place was also taken by wild card Ursula Wohlschlager (AUT) which puts a new face on the women?s snowboarding division.Official Results of the Nissan Freeride de Chamonix Mont-Blanc 2011 by SwatchMen?s Ski Aurélien Ducroz (FRA) Adrien Coirier (FRA) Reine Barkered (SWE)More Ski Videos >>Men?s Snowboard Xavier de Le Rue (FRA) Douds Charlet (FRA) Aurélien Routens (USA)Freeride World Tour: Chamonix: MenWomen?s Ski Angel Collinson (USA) Marja Persson (SWE) Janette Hargi (SWE)More Ski Videos >>Women?s Snowboard Anne-Flore Marxer (FRA/SUI) Ursula Wohlschlager (AUT) Nathalie Zenklussen (SUI)MPORA Action Sports >>Related posts:Freeride World Tour gets bigger After the success of last year and because of how...Freeride World Tour: Riders confirmed! The Freeride World Tour is one of the biggest,...Candide Takes Gold At The Freeride World Tour 2010 In Chamonix Candide has managed to take the lead on his first...