FD Virtika wants you to ball out for your chance to win $1,400 worth of shopping sprees at
fdwear.com
along with becoming an official member of The Ballers Club!
To enter for your chance to win, simply upload a photo of you doing something 'baller'. What does baller mean exactly? Well according to the Urban Dictionary, among other things, baller means 'Appealing; cool; favorable; pimp; tight; anything that is good'...but we'd like to leave it up to you! Do something funny, outlandish and ridiculous that you think is baller (but keep it legal!), take a photo of it (and keep in mind that it must be of YOU!), and upload it here before Sunday, January 13th at 9pm PST/Midnight EST. Keep in mind that only one entry per person is permitted, and due to legal reasons on Newschoolers' behalf, this contest is only open to US residents aged 13 and over.
Once the deadline for entries has passed, the Newschoolers community will have 4 days (from Monday, January 14th - Thursday, January 17th at 9pm PST/Midnight EST) to vote for their favorite entries and narrow it down to the top 10 finalists, at which point the FD Wear staff will pick the winner and announce it on Monday, January 21st.
The winner will receive a $800 shopping spree at
fdwear.com
plus a FD Wear Ballers Club jacket, while 2nd place will receive a $400 shopping spree and a Ballers Club jacket, 3rd place will receive a $200 shopping spree and a Ballers Club jacket, and 4th place will receive a Ballers Club jacket. And in addition to all of that, all 10 finalists will receive 25% off their next order, become official members of The Ballers Club, and have their names listed on FD Wear's website.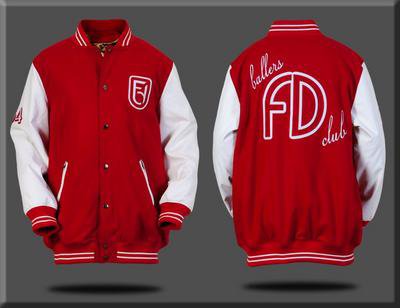 On behalf of everyone at FD Virtika and Newschoolers, good luck, have fun...and ball out!