The Insta 360 Go 2
Community Review
The insta360 GO 2 is the newest addition to the insta360 family and does not disappoint in the slightest. It's the smallest compact action camera with arguably the most tech on the market.
It comes with a very slick looking charging case similar to apple AirPods that also acts as a remote. Everything about this camera feels like the future, the weight, the circular finish screens, voice commanding feature and of course the magnetic necklace that allows you to wear it easily without all the clunky straps.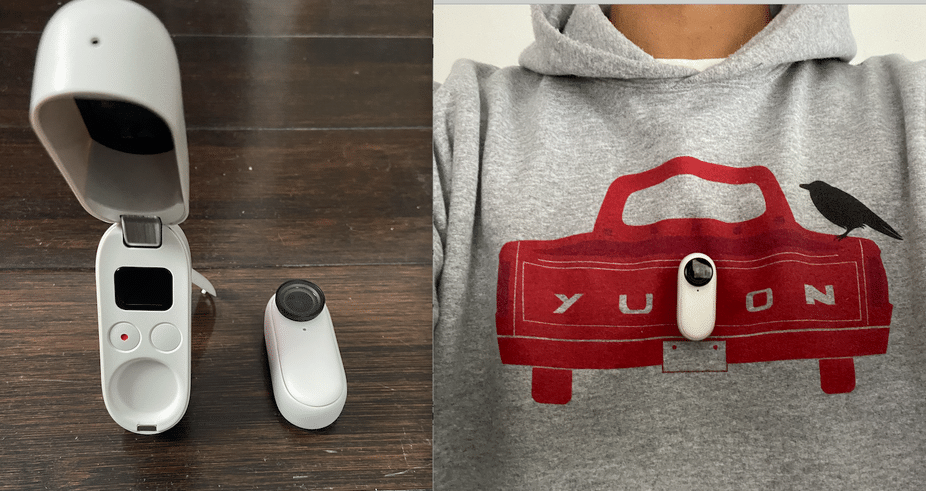 When the camera weighs only a couple ounces and it is the size of your pinky finder there has to be a couple drawbacks. One of them for us was how non-intuitive the camera was during our initial testing. However after a couple hours and with the help from the cheat guide included in the box it became very natural.The only other drawback was the battery life not being the greatest in cold temps. It checks out given the size of the camera and they did their best to fix that with the portable charging case (which adds an extra 200% battery life)
My favourite part of this camera is just the sheer portability and advanced stabilization tech. The best camera is often the one you have with you and this camera it very easy to bring along anywhere. It can shoot up to 1440p at 50fps, it is waterproof + it comes with the easiest and most convenient wearable mounts on the market. It also syncs seamlessly with your phone and has an extremely powerful in house app that allows you to post & edit very easily. For skiing the mounts are not as stable as I would of hoped but that's not a big deal - that is what the X2 is for.
Pros:
-Extremely easy to bring around
-Waterproof so you don't have to worry about dropping it in the snow or water
-Offers great built-in stability features
-Extremely fast autofocus that allows for unique angles
-Shoots natively at 9:16 , 1:1 and 16:9 which is great for sharing quickly on social
-Charge case doubles as a tripod and remote control
-Accessories are very well designed makes this camera relevant and mountable anywhere
Cons:
-I would of liked a bit more lens protection on the front lens
-Battery life is less than ideal in cold temps
-Interface took some time to get used to
-Low light capabilities and dynamic range is not ideal but very manageable
-Storage is locked
In conclusion this is not the greatest camera for filming skiing per say mainly because of battery life and storage capabilities but it is the greatest camera for filming everything else. If you like to capture moments throughout your life off the hill this is much more handy than any other action camera on the market. If your primary goal to film action sports such as skiing I would recommend the insta360 x2 (review bellow). However if you want to just pull out the camera for a couple shots here and there on the ski hill this definitly does the trick.
Overall this gets a 8.5/10 and would recommend this to users who like to capture lifestyle shots without carrying around any bulk.
More details and info here:
https://www.newschoolers.com/videos/watch/1035827/Introducing-Insta360-GO-2---The-Tiny--Mighty-Action-Camera
--------------------
The INSTA 360 ONE X 2
https://www.newschoolers.com/videos/watch/1001058/Introducing-Insta360-ONE-X2---The-Pocket-Camera-Crew
The Insta 360 One x2 is changing the definition of action sports camera. This lightweight camera has unparalleled algorithms that make it the smartest camera on the market. You never have to worry about pointing your lens at the subject - you can just track it afterwards.
Size
This camera fits into your pocket better than any other camera on the market. With a weight of 149g and a dimension of only 4.62 x 11.30 x 2.98 cm this camera is tiny. Comes in a nice synthetic carry case so you never have to worry about damaging it in your pocket.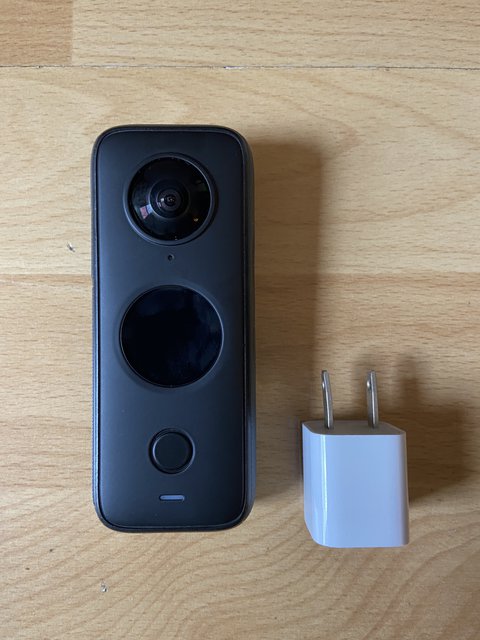 Features

Feature list is much too long so I thought I'd highlight what's best for shooting skiing:
-5.7k 360 capture
-Steady cam mode
-Flow state stabilization
-Invisible selfie stick (best on the market IMO)
-Waterproof
-Select subject tracking in post
-Very easy to use editing app
DOZENS of more specs can be found
here
:
Functionality / Mobile APP

One of the best parts about this camera is the mobile editing software. You no longer need a computer get your shots ready for posting. Inside the app you can do all the basic cuts and effects that any software allows and then some. Below is a clip i cut and saved on the chairlift going up after hitting a small rail line
https://www.newschoolers.com/videos/watch/1001060/temp-video-1613862933508-mov
You can literally wave the stick around in any direction or swing it back forth while recording and the shot will be usable. All you have to do is select a tracking point on your phone and it will re-export the video in a smooth and stable format that looks professionally framed.
Eco-system

The insta 360 x2 is not just a stand alone camera. Insta 360 has developed an eco system of products that help you capture the usual angles.
With pro line camera in the thousands of dollars
to the
wearable size cameras
insta360 has a product for every type of explorer.
All in All this camera is well worth the investment as the possibilities for capturing skiing is endless. You can also re-create many fun effects like the
matrix effect,
stop motion effect
, and
countless others
with the click of a button without using a computer.
Shoot us a message if you want a promo code!