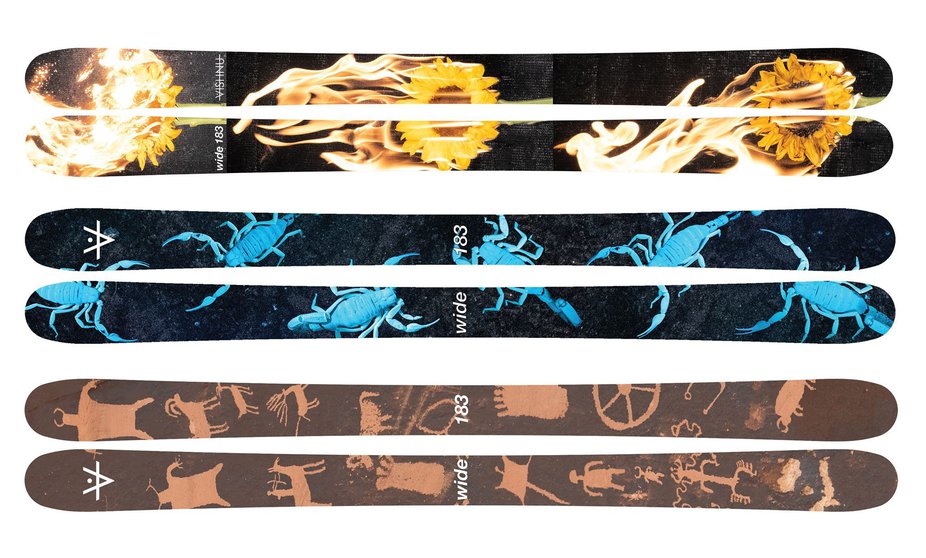 In today's market place, the Wide is a unique ski. Vishnu don't share a ton of information about ski construction and materials on their website beyond the fact that their skis have a bamboo/poplar core. The Wides have a full sidewall construction, textured topsheets and the edges are 2x2mm… in other words, all things identical to the Wet, but here, the two pieces meet at the point of both the tip and the tail.

His name is pretty relevant since this model is a typical wide park ski. Like the Wet, it's super easy to flex and butter, and just stiff enough not to wash out easily while doing so. They are also snappy enough to give you energy on the exit of butters. At the same time, the added width gives you a significant amount more stability in all situations. Given to this greater width, that is inevitable, but the low actual weight and symmetry mean they do feel nicely balanced in the air which helps counteract the size.

The lowish/perfectly balanced actual weight and the perfect shape for surface swaps and presses mean that like the Wet, jibbing is where these feel most comfortable.

On the wide, I didn't see the issue with de-cambering/increased rockering that I saw quite quickly on the Vishnu Wet. That meant I didn't really feel a huge difference in how these skis skied on day one and day ten. Again, my edges held up well underfoot and the topsheet that Vishnu use is one of the best I've tried with almost no chipping.


Click here for our full review of the 2021 Vishnu WIDE | The Roofbox Reviews
The Vishnu WIDE improves on our original WET design with a subtly stiffer flex pattern for more stability at high speeds as well as an overall wider construction for added stability. Though it still has the soul of a park ski, the WIDE can handle anything you throw at it with the maneuverability and durability you've come to expect from Vishnu.