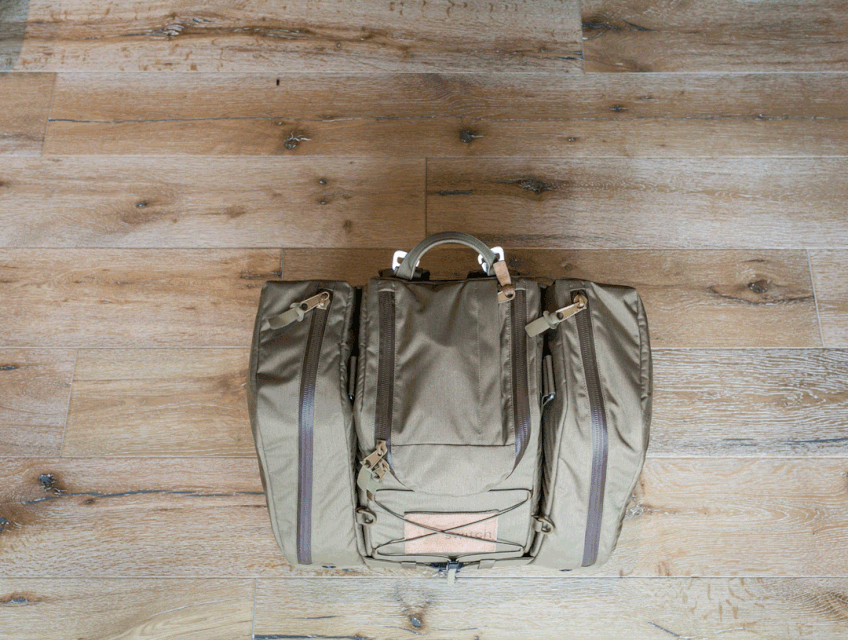 Newschoolers' Review:

I've been using the Switch Designs boot bag for most of a season now and I have to say it's really clever. I have relatively small boots, so I've always been able to fit them into a 24l backpack to keep in my hand luggage (European budget airlines do not let you carry boots loose in addition to a bag), but the Switch bag has been a revelation nonetheless, allowing me to travel with more gear than before, more conveniently. It avoids the situation of crushing my laptop against my boots courtesy of the separate padded boot compartments and the 'switch' feature (from backpack to tote) means it will slot neatly into pretty much any space when you need to stow it.

Typically, I pack mine with my boots, laptop, a magazine, a book, a gopro+grip, water bottle, helmet, a jacket for when I get to the mountains and it gets cold, plus some other bits. No other bag I've tried has allowed me to carry that much and still take it onboard (on Easyjet) as hand luggage. Technically the bag is actually slightly larger than Easyjet's restriction but in 10+ flights, I've never been questioned with it on my back.

I do find myself using it in backpack mode 90% of the time though. The tote mode is comfortable and balances weight surprisingly well (given that both boots are at one end), but I usually have a big ski bag with me so it's nice to have my other bag on my back, out of the way.

As a backpack, there are some small inconveniences. The bag is pretty wide, so if you're walking about in tight city spaces, you are going to piss off other people by bumping them if you're not extremely careful. A cross-chest strap would also be nice to keep the bag more stable, especially for skiing as it is a bit unwieldy to actually ski with. But that's not the main priority with what is essentially luggage rather than a daily on hill bag in my mind. I find it comfortable to wear and the convenience of having everything I need in my backpack has been a real bonus. Sidenote: This also makes the perfect day bag for a trip to the slopes (indoor in my case) as I can get everything I need for a day of shred inside.

All in all, I think the Switch Boot Bag is a great piece of product design by a skier thinking outside of the box. For me it does for boot bags what The Douchebag did for ski bags, it just makes sense. - Twig
Manufacturer's Description:
The Switch Designs boot bag has a patent-pending transformational design, offering equal comfort both as a backpack and in its slim "tote bag" configuration. With just one reversible buckle, you can instantly convert from backpack to tote to pair with other luggage, fit into airplane overhead bins, and pack into cars or narrow spaces at home.
Features Include:
-Patent-pending transformational design
-Interior mesh pouches fit up to 13" laptop and/or tablet
-Grommets on boot pockets for drainage and circulation
-Bungee straps to hold jacket and other soft goods
-D-hooks provide attachment options for a water bottle and more
-Reversible buckle (engineered by Fidlock in Germany)
-Valuables pocket
-Key hook
-500D USA Nylon Cordura
-Bark-tanned Wyoming elk leather trim*
*While the bags are produced overseas, Switch wanted to include a domestic touch, so they sourced the elk leather trim from an old school tanner in Dubois, Wyoming. Over two hours from anything you could even call a town, he tans wild elk hides using an ancient, natural method, making every single bag from this first run unique.




Buy now:
https://switchdesigns.com/collections/skibootbag
.