As I mentioned earlier I helped put a yurt together earlier this year. I filmed some, but the footage just isn't interesting. Instead of showing boring footage for the sake of footage I figure I'll just throw some pictures up. The yurt is about a 40min skin from the ski hill boundary, mostly flat ridge walking makes it a super easy skin.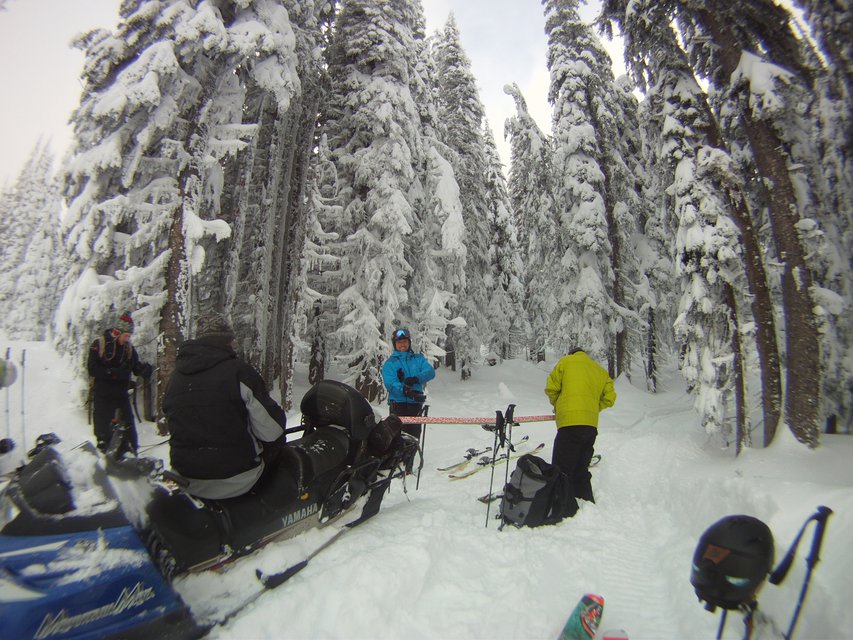 skinning up in the morning. They can get a sled most of the way in, but I've never really seen it head out there.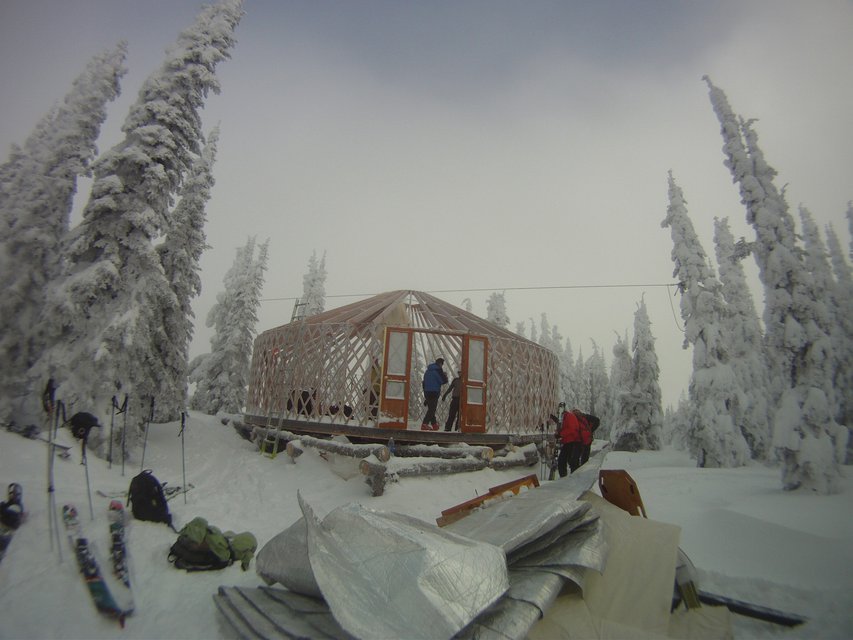 they've been building the yurt since october, and this is what it looked like when we showed up to put the walls and roof canvas up.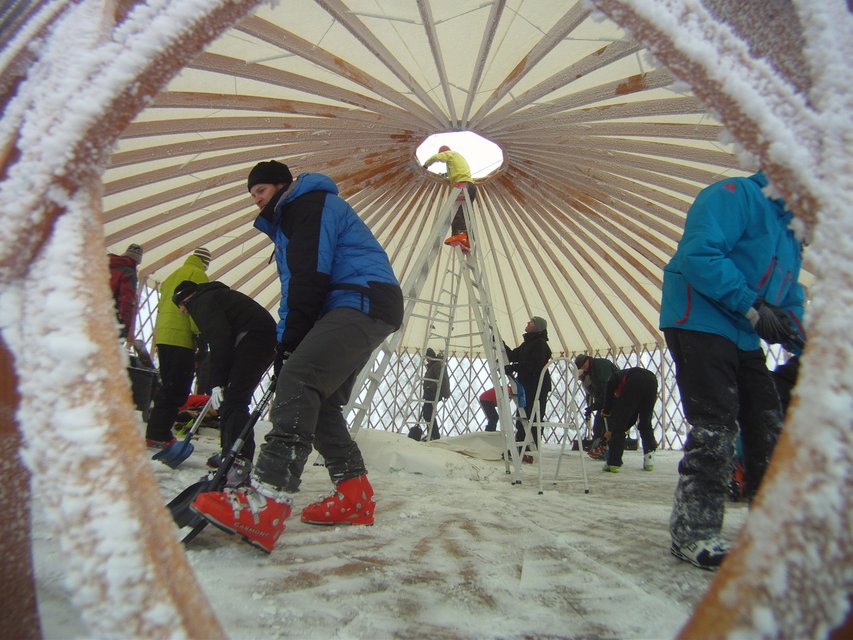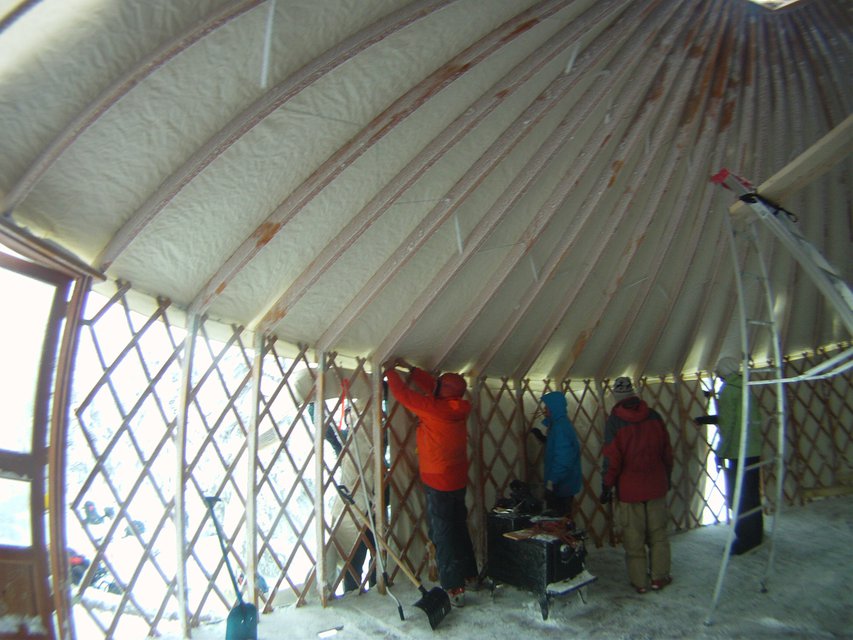 In all there are three layers of canvas/insulation to put up, the first two and the walls were the easy part.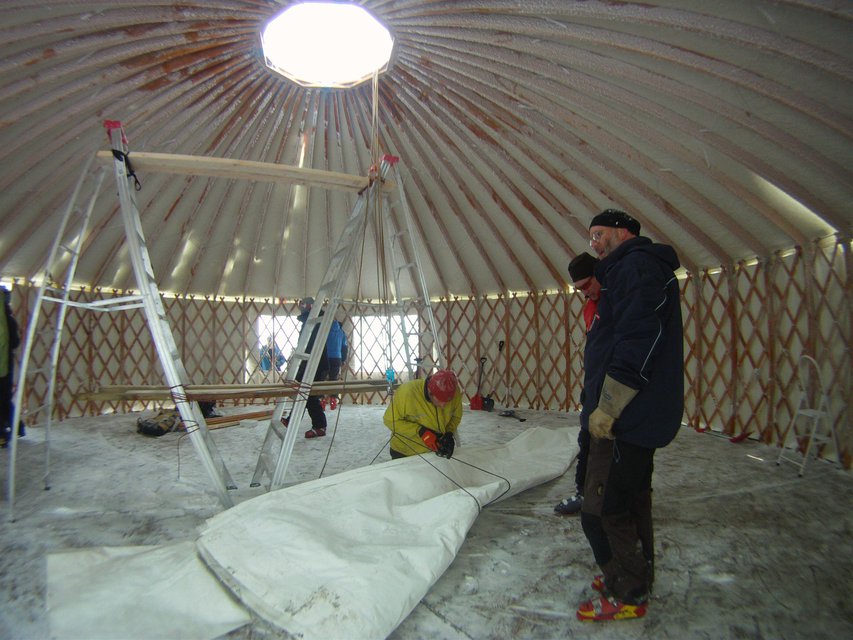 The final layer though was a couple hundred pounds and was a real bitch to get on the roof.
Took the better part of the day to get the thing finished, but when it was all done we got some nice turns back into the ski hill. My opinion on the yurt? could be cool, but totally won't be. It's a shame really.
Also back in the earlier days of winter I worked with Valhalla/SnowWater building them some cat roads with some friends. We did 4 days of work in exchange for 2 days of cat skiing. In all honesty, free cat skiing aside, it was totally worth it just to play in the snow building cat roads with friends. I finally got around to throwing together an edit of some shoveling and skiing. Valhalla Powdercats is an awesome operation with a loose (yet professional) crew and a big tenure with terrain that will make skiers from all abilities excited.
So, "work" aside, February was somewhat frustrating for me. Everyone in the province was getting dumped on with huge storm cycles hitting them back to back, while here in Rossland we were waking up to 3cm overnight as the norm. This trend is still going on, with the odd 10cm day here and there. People are starting to call 4cm overnight a powder day... and I'm the crazy one... We did manage a few days of good soft snow none the less and here is a POV edit from 3 days in February that is mostly in bounds here at Red Mountain. Jeff even has a small cameo near the end...
That edit was from mid February, shortly after that I let my friend Duncan borrow my GoPro to take down to this ski kite event down in Idaho and he lost it. :( He ordered me a new one last night, tomorrow I'm getting my car fixed, and in a week or so we've got our eyes pointing south for a ski trip. Not sure where we're going to go yet. Might be as close as 49 North, might be as far as Grand Targhee. I've been wanting to go to Bridger Bowl all winter, so I'll be pushing for that. Until than, it's March - go have some fun before all the snow melts!