Smokin Snowboards Rider Andrew Brewer Wins 4th Annual Jibassic Pro Invitational at Boreal
Andrew BrewerPhotos: Matt FongLake Tahoe, CA: Smokin Snowboards is proud to announce the 1st place finish of Andrew Brewer in the 4th Annual Jibassic Pro Invitational at Boreal Mountain Resort. Andrew ripped his way to first place competing against snowboardings top professionals in Lake Tahoe's winter kickoff, earning him $2000 and airline tickets from Southwest airlines. Throwing it down on all obstacles, Andrew was making it look easy in the one of the most tech and progressive rail jams of recent history. The terrain park crew at Boreal came in with a brand new banger stair case from SNOWBOARD Mag and Red Bull, as well as a public park with its own staircase and jibs on hill making it an amazing opening event. The day was perfect and the night turned out even better with one of Smokin Snowboards own taking it all home. Andrew also won $200 dollars in Fuel TV cash for best tricks on top of the two grand and the Southwest Airline Tickets giving him top honors of the evening.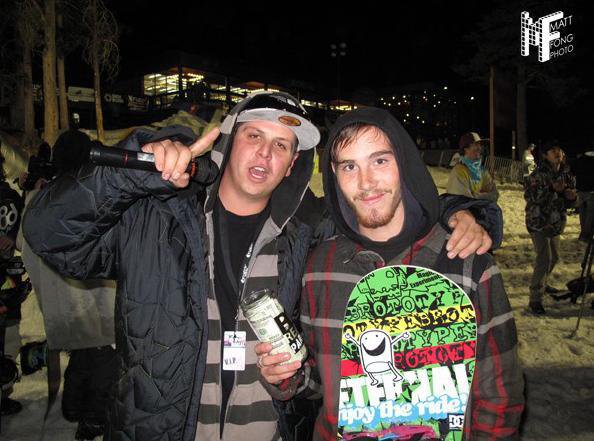 Smokin Team Manager Binky with Andrew Brewer and 22 $100 bills.We want to congratulate Andrew once again on his JPI win and thank the Boreal Terrain Park Crew, Jon Slaughter from Boreal, Fuel TV, Southwest Airlines, SNOWBOARD Mag, 32, and everyone else that made this contest happen.Smokin Snowboards are professionally handmade in Lake Tahoe by snowboarders that understand quality and performance !!!YOU CANT FOOL THE YOUTH!!! check out more of Andrew and our line of Magne-Traction Snowboards at smokinsnowboards.com.