For 2016, all the A6ENCY crew had was a VX tape camera, a homemade high powered winch, and a tank full of gas. No sponsors. No budget. No cares. We talked to Cam Keith and Robert Crenson about Toronto, DV tapes and the pressures of self-funded skiing.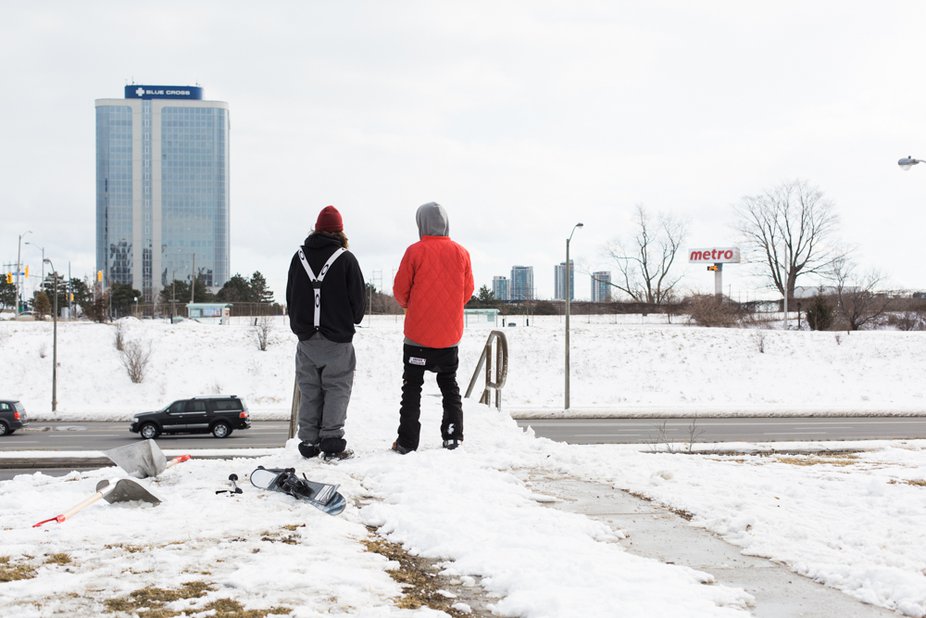 Describe the crew
Cam: The A6ENCY is Cam Keith, Rob Crenson, Jarrad McCarl, Matt Wilcox, Matt Crawford, Eric Hibbard, Kyle Hibbard and Adam Finn. The gang of us all grew up skiing together for the most part, day one park buddies. Blue Mountain and MSLM were our stomping grounds and each of us have really found our own directions with skiing, but still have a common interest of progressive and unique style. When not trying to progress my own styles of skiiing, I find myself generally handle the filming, mixing, and editing. Rob Crenson aka 6 Daddy, is based out of Toronto and knows that city inside and out. He always pulls through with a ton of heat spots and wants to get up to some crazy shit when we roll into town! I have been filming and skiing with Matt Wilcox and Jarrad McCarl since my first camera purchase. Both guys have very different takes and approaches on skiing, but both blow me away in front of a camera. Matt holds it down as one of Canada's top slope skiers and Jarrad truly needs no introduction. Matt Crawford can do it all when it comes to ripping park, triple threat. Adam Finn rips like a GX1000 skate video, long tech lines and fast. Then you have Matt Brindisi and Max Hill who are part of the original CASG crew and take anything and everything with full torque but still heavy style focused. That's the crew. From the 416 to the 604.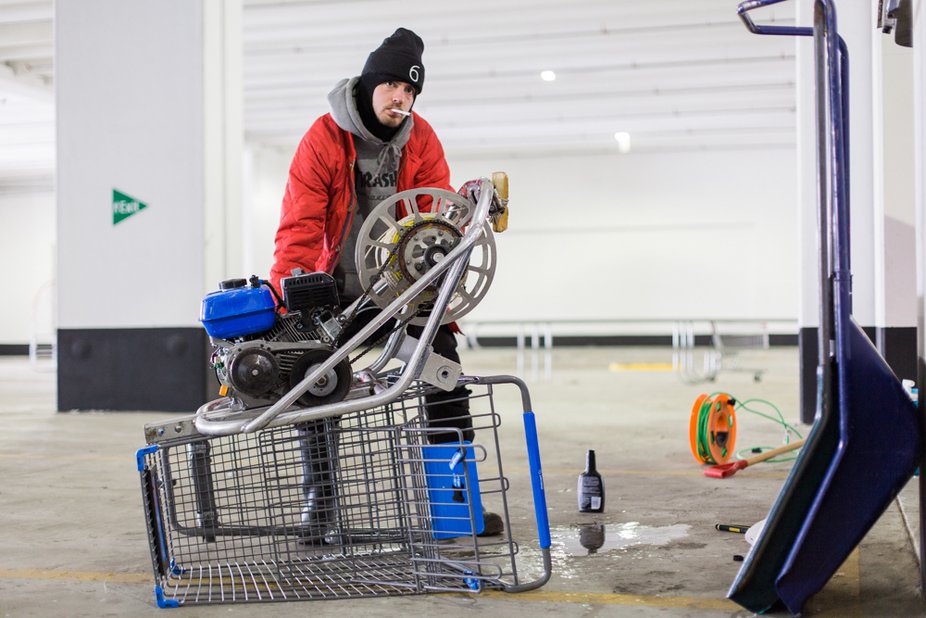 What did you learn from working with the likes of Max Hill?
Cam: Go fast, be friendly, and laugh a lot.
Rob: I've learned a lot more from Max Hill on things outside of skiing haha! But with regards to skiing...he's taught me to never leave a spot without at least one shot, and how to talk your way out of getting kicked out of one. Oh...and how to cure a hangover.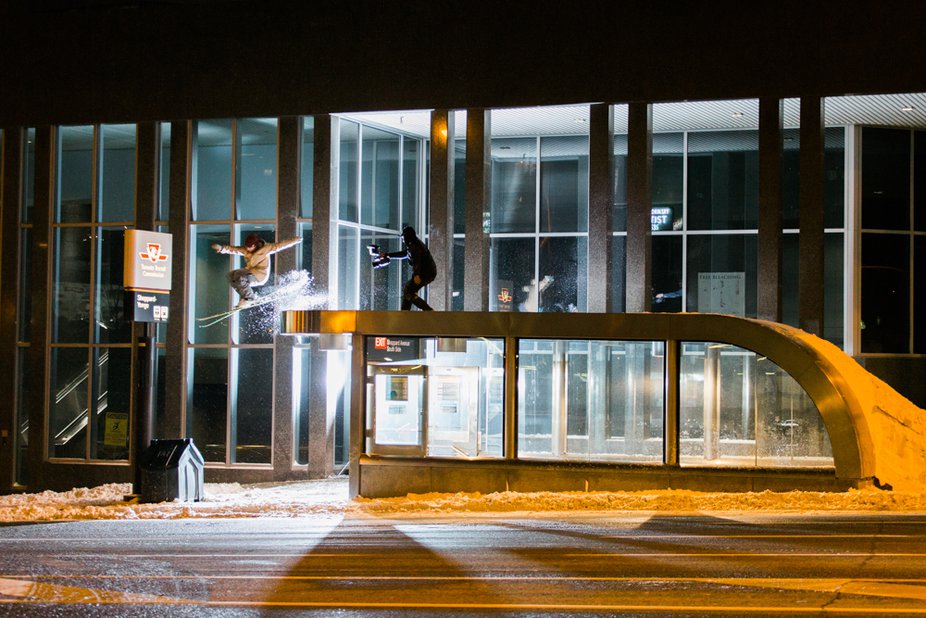 What were some of the challenges you faced in self-funding this operation? In what ways did you have to shape your expectations to the realities of production?
Cam: The reality is most of us are working 9 to 5 or some form of that to buy new skis, fill the gas tank, and rent the hotels or any other expenses that come with being on the road. We are the filmmakers, the winch operators, the skiers, and most importantly the sponsors of all of that ourselves. As of right now none of us have the whole winter off or a budget other than our own pockets to fully achieve our production goals.
Rob: Yeah, Cam said it well. I've held every job in the book at times to fund my skiing, as I'm sure the rest of the crew can agree with. Last winter for example I found myself bartending some millionaires house party on the Bridal Path, driving for Uber the next morning, and then load up my gear and setting up a spot in the middle of a snow storm that same night. That more or less has been on repeat for me for the past 3-4 years. Equipment, shovels, winch parts, lights, fuel, and lastly food...it all adds up and comes at a cost. With that said, we have the creative freedom to do what we want, which is most important, but sometimes it's tough to do it when we want. That leads to the second biggest challenge...timing aka weather. I've got trust issues with Mother Nature. The east coast got majorly starved last season of snow. When we did get it, the windows of opportunity were short and we had to move quickly. We made the best of what we got. Cam and I both want a whole uninterrupted winter season to be able to create. That's the goal.
Describe the process of working with HV tapes. What do you like about the medium/what don't you like? How does analog media fit into the A6ENCY's aesthetic?
Cam: Working with DV tapes is a long and intricate task. I really enjoy cutting footage frame by frame, citing a whole tape. Reminds me of when we were younger and we would film all day, get home and just watch all the raw footage. What has to be understood is that we are skiing first, we need a camera we can set up and put down ready to go as we are building spots and passing the camera around. Camcorders are perfect for Run 'n' Gun filmmakers and that is how I would define theA6ENCY. Standard def can be scary in an HD world, but on our own dollar it made travel and more days on skis possible. What you have should never be valued as much as what you can do. My little VX style Sony could do it all in my opinion.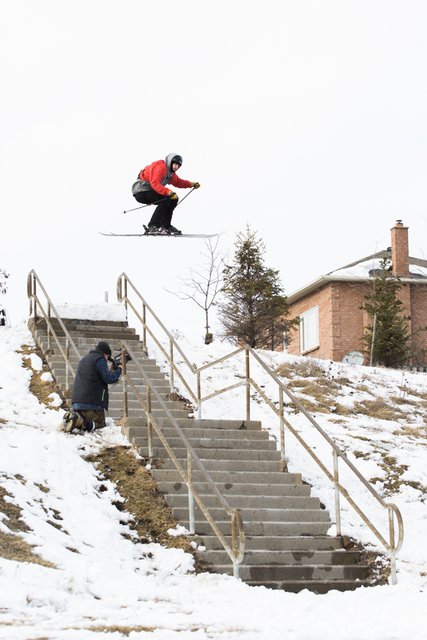 You guys are tapping into a lot of popular representations of Toronto: the "6ix" etc. Can you talk a bit about the freeski scene there? What about the city inspires you?
Rob: I don't care if this sound cliché...but Toronto is on a wave. The city has an energy to it right now that can't be matched. You kinda have to spend sometime here to understand that. Other than the obvious population growth and development in infrastructure over the past couple years, there's a lot going on with different industries (music, arts, technology, events, surfing etc.). There's a lot of things to pull inspirations from. I live around the corner from Drake's primary producer and sound engineer. You can guess how that inspires me when we are loading up all the gear and my winch into the truck when a snow storm is dumping snow throughout the city. The freeski "scene" though...is slim to none. But that's something I hope to change. There are two small ski hills in the actual boundaries of the city...one literally built out of garbage/waste material and the other is basically just a ravine with a chairlift. Both used to have parks when I grew up skiing, but don't anymore. The majority of people drive out of the city to bigger hills (Blue Mountain, MSLM, Horseshoe, etc.) That's where the Ontario freeski scenes thrive. In the actually city though...everyone who I consider a "freeskier" has or will eventually moved west. The scene is growing with more development and growth in the parks outside of the city, but Evan McEachran and myself are really the only ones still based in Toronto trying to make it happen in my opinion.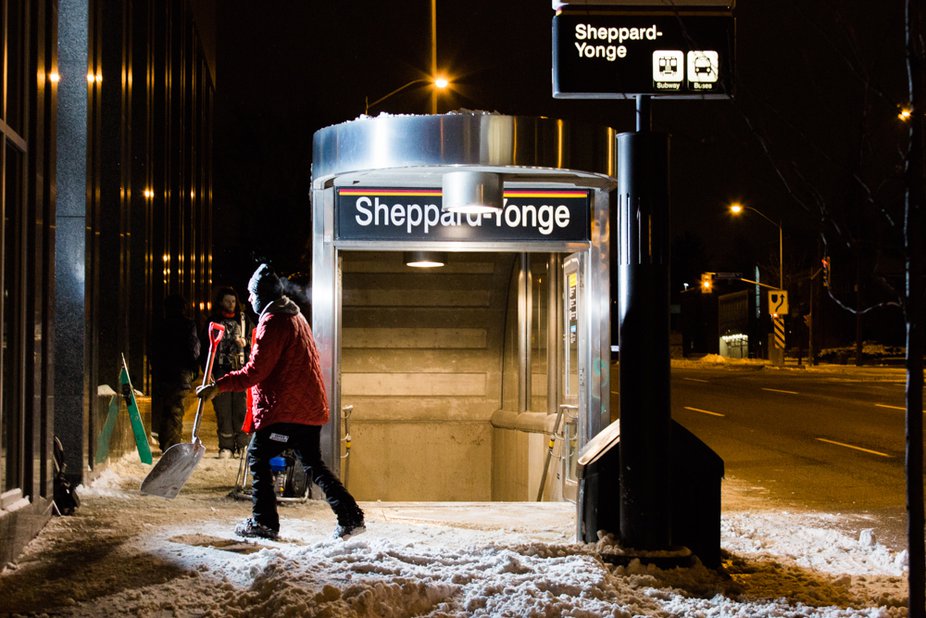 Any advice for other crews who might be looking to pursue a similar projects or concepts in the future?
Cam: Focus on the skiing, and making memories with like minded people. Use what you have and build off of that, the newest gear and camera isn't going to accomplish anything for you. Search outside of skiing and sports for inspiration, and determine success on your own, not by what the industry tells or shows you.
Rob: Make it happen from where you're at, period. Don't worry about moving west, or to the next best thing (hill, resorts, cities, etc.) Appreciate what you have around you, and find ways to create within your boundaries and abilities. Freeskiing to me is being able to ski wherever on whatever, progressively and with style, and most importantly have fun doing it. All you really need is a couple like minded people, a camera, and a pair of skis. That's the basics, everything else above that is great, but really just a luxury.
What else can we expect to see from the crew in the season ahead?
Cam: A couple of us have set up base in Revelstoke for the season and are preparing for a winter with less days in the park and more time solely in the backcountry touring and sledding and on street features. With street of Calgary down the road and still lots to achieve in the 6ix. I can guarantee to see more from us this winter.
Rob: I'm going to be doing my thing in Toronto...welcoming the rest of the crew with open arms and couches when the snow starts falling. Definitely will be joining Cam and the rest of the guys at some point once they set up shop in Revelstoke. I'm also hoping to organize a park/street inspired event at one of Toronto's city runned ski hills. I want to put something together that's grassroots, free and accessible to anyone, and focused on fun and style. Outside of that, you can expect to see some big things from Cam, Jarrad, myself, and the rest of the crew behind and in front of the camera come 2017.
http://www.newschoolers.com/videos/watch/844706/theA6ENCY-Presents---STRANGERS
You can follow Cam at @camk3ith and Rob at @crenszn on Instagram and we just launch @theA6ENCY to keep up with the rest of the crew.